Presidential Candidate
DP Veteran
Joined

Aug 20, 2014
Messages

2,932
Reaction score

657
Location
Gender

Male
Political Leaning

Very Conservative
All Chick Fil A, Dwarf House, Truetts Restaurants today have the missing man table setting. I am sure there are others that do, as well. For those that have always wondered about the symbolism of the items on the table, I typed them out.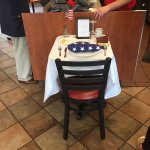 ​
Table: set for one, is small, symbolizing the frailty of one isolated prisoner. The table is usually set close to, or within sight of, the entrance to the dining room. For large events of the Missing Man Table is set for six places: members of the five armed services (Army, Navy, Marine Corps, Air Force, and Coast Guard) and a sixth place setting reminiscent of the civilians who died during service alongside the armed forces or missing during armed conflict .
The table is round to represent everlasting concern on the part of the survivors for their missing loved ones.
The tablecloth is white, symbolic of the purity of their intentions to respond to their country's call to arms.
Single red rose in the vase, signifies the blood that many have shed in sacrifice to ensure the freedom of our beloved United States of America. This rose also reminds us of the family and friends of our missing comrades who keep the faith, while awaiting their return.
Yellow ribbon on the vase represents the yellow ribbons worn on the lapels of the thousands who demand with unyielding determination a proper accounting of our comrades who are not among us tonight.
Slice of lemon on the bread plate: represents the bitter fate of the missing.
Salt sprinkled on the bread plate: symbolic of the countless fallen tears of families as they wait.
Inverted glass: represents the fact that the missing and fallen cannot partake.
Lit candle: reminiscent of the light of hope which lives in our hearts to illuminate their way home, away from their captors, to the open arms of a grateful nation.
Empty chair: the missing and fallen aren't present.
The Bible represents the strength gained through faith to sustain those lost from our country, founded as one nation under God.