In 2019, the House passed 400 bills but Trump and the Republicans in the Senate ignored most of them. It was clear that the House continued to care about passing legislation that would help the nation but when it reached McConnell and Trump, all of that got buried.
November 2019

For months, President Donald Trump has fired off

tweet missives

accusing House Democrats of "getting nothing done in Congress," and being consumed with impeachment.

Trump may want to look to the Republican-controlled Senate instead. Democrats in the House have been passing bills at a rapid clip; as of November 15, the House has passed nearly 400 bills, not including resolutions. But the House Democratic Policy and Communications Committee estimates 80 percent of those bill have hit a snag in the Senate, where Majority Leader Mitch McConnell is prioritizing confirming judges over passing bills.

Congress has passed

just 70 bills into law this year

. Granted, it still has one more year in its term, but the number pales in comparison to recent past sessions of Congress, which typically see

300-500 bills passed in two years

(and that is even a diminished number from the 700-800 bills passed in the 1970s and 1980s).
Since Biden took office and the Democrats have been in control of the House and semi-control of the Senate, the roar about the "Democrats are failing at doing their jobs" has been "the thing" circulating all around. Even many Democrats are saying "we are failing". Nonetheless, the situation is not as simple as the media and the parties are saying. The reality is that McConnell is still speaker of the Senate and with there being a 50/50 split between Democrats and Republicans and Manchin and Synema (Democrats that have consistently been leaning to the Republican side), the Senate continues to be a graveyard for passage of bills to help the American public;.
and yet, the graveyard continues:
as of this writing, the 117th Congress' total legislative output stands at 36 laws
It is evident that the Republicans continue to be the DeFacto "ruling party" as nothing can actually get done if McConnell does not agree and convincing McConnell to go along with anything the Democrats propose, is an impossibility.
I think McConnell has to go before this country gets anything done, or at least anything that helps the American people and not only the pocketbook of the rich people.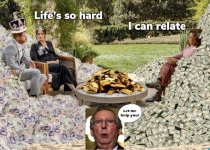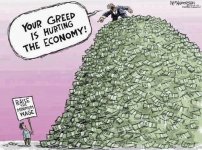 Last edited: