Joined

Dec 5, 2015
Messages

25,801
Reaction score

5,222
Location
Gender

Male
Political Leaning

Independent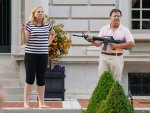 The McCloskeys own a personal injury law firm together, and claim that in their work they have defended the civil rights of their clients. Currently, Mark McCloskey is representing a client in a federal police brutality suit.

However, according to court documents and other media reports, the McCloskeys' residency on Portland Place has, at times, been contentious.

In a piece for the St Louis Post-Dispatch, investigative journalist Jeremy Kohler detailed a long list of alleged legal battles Mark McCloskey has waged against his neighbours, colleagues, and even his own father and sister, mostly over matters to do with property.

In one court filing, they are said to admit to using a gun to force a fellow resident of Portland Place off of a patch of grass they claimed to own because he "refused to heed the McCloskeys' warnings to stay off such property".

According to Kohler's reporting, the McCloskeys also sued the trustees to enforce the neighbourhood rules that said only married couples could live there.

In one of the stranger reported conflicts, Kohler found the McCloskeys destroyed beehives along the outside of their northern wall that were placed there by the neighbouring synagogue as a part of their childrens' programming. "The children were crying," the rabbi told Kohler.
Mark and Patricia McCloskey: What really went on in St Louis that day? - BBC News
These are the "responsible" gun owners the gun nuts must be talking about.
Stop with this nonsense. Mark and Pat McCloksey are not heroes, they are criminals. Waving and pointing guns at non-violent protestors?
Whatever happened to engaging in dialogue?