It's funny that every time I think of coming back here, I'm put off the idea by the thought of people like you. I still see you here, after having had a little faith in humanity again. Another momentary lapse that I always tell myself won't happen again, but I just can't let it die. I guess 'atheist's' can be overcome by faith in irrational beliefs too…
Willfully ignorant people, quick to throw names around at people like me without doing an ounce of work to look at a single shred of what's available out there – or even knowing what's in the links you provide. I've been here before, I've seen how it works, and I feel I have taken great care to provide proper links to support my points, put some substance and thought provoking material in my opinions, at the cost of being unable to keep most of my posts to a length that's pleasing to the eye on first glance. If it's not all polished up into a tiny soundbite for you, repetitive all over the media, it's like you stumbled, slowing in quicksand, quick to click the 'back' button to get yourself free to quicker, crisper posts… and it can't be true, right? I swear to f**k, I knew smarter kids in grade two…
And when I hear myself talk about it, articulate it, I still remember how I pictured other's; the angry Lt. Dan's, or the paranoid and rambling psychotic's, or even the people that watched too many movies... ??? But that's not how I feel about it, or picture it or myself now – it was just an extension of the masses, and their media. 'Conspiracy Theorist' is an invented term. I only dislike the term because it's you that has a problem with it, can't get past it…
Once I figured out how truly ignorant the masses were, and where they were getting their misguided beliefs, I STOPPED following. I thought it prudent to be much more critical of ANYTHING the masses readily adopted, or were apathetic towards, without understanding why – they are almost always wrong, or stop short of the full story. It took a couple three hundred hours of wading through s**t I never thought I'd trouble myself with before I could even 'give in' to the idea, then several hundred more to reluctantly relent to being as 'radical' or 'cynical' as you may perceive me to be, with your hand-manipulated pre-conceived notions. It's not that I think I'm smart, or have all the answers. It's just not hard to be smarter than people who think they're good little sane citizens in a world gone f**king retarded, who can't cross the threshold into letting themselves 'go crazy' with sanity…
Maybe it's also irrational to think willful ignorance is curable – the addict has to want to change, and I don't see a hope in hell that you even know what you want anymore, afraid of your own shadow. It's more tragic to me that your human potential and dignity were stolen, people with a shred left made to look ridiculous, than that we just weren't smart enough. I could forgive you if you were just stupid…
How many times have you and your friends bitched about the state of the world, asking 'how do they get away with that s**t?' I wasn't happy just shrugging it off anymore. I looked - outside of the sources of those getting away with the s**t. Novel idea, I know. I've spent hundreds, maybe a thousand or more hours deciphering, inconvenienced, cross referencing - even trying to find links that YOU might find acceptable when I decided I could no longer justifiably stay quiet about it. On this site, if someone puts up a link that says 'alternative media' stinking on it, your mind is already made up. I have to take each link to the 'New York Times' that was listed neatly on one page under the 'alternative media' link, or you're immediately laughing before you click – IF you click… Is that irony? Tragic irony?
A good alternative media source is MORE credible than your New York Times. Almost anything you see in the mainstream, the easy to get your hands on, popular, heavily consumed, blockbusting, etc, was allowed, or put there specifically to be gobbled up by you, the drug that makes the bars invisible… Nahhhh. Anything that says the opposite of what the mainstream says must have something wrong with it, why would I waste my time reading into it? Plus, haven't you seen what they say about people who believe in that kind of s**t? But don't believe everything the media tells you, no, I know not to trust them that much, I'm not stupid…
And most of you still won't look. A percentage of the rest will at least take the trouble to find one or two of the least important sentences in a provided link to spin the argument, or find other (mainstream and official government sources included), links to slam the author, or his/her 'bias', never truly igniting your critical thinking skills to fuel that curiosity that makes you sacrifice watching a movie, dinner, discussion forum, etc, until you've figured it out. You're in the forest, come outside the tree's for a bit…
But the great majority of you – of the ones that read and respond - just take the popular route, pick your favorite soundbite post or name to call me in front of your masses thinking you're cool, afraid to stand out and be what you want, or afraid of people who ARE what they want. It makes me want to vomit in my mouth, what pathetic and weak follower lunatics you all are. As long as I sound different, get 'made fun of' by people like you, I know I'm doing just fine. Watching you politicize, witticize, and formidableize your soundbite posts on misdirected or even unimportant matters, your invented divisive religions and political parties and brand-name consumables you think are going to fill that void, keeping that monetary system that enslaves us afloat, is a tragic, but comforting feeling for me. Until more of you sound more like people like me, don't flatter yourself by thinking you can hurt my feelings. You're rolley-polley little munchkins to me. Go run and be merry with the other stoned and oblivious, flag-waving munchkins in the forest. It's only cute on you for so long though…
Three quarters, maybe all of you know. You already know in your deep down feelings about the chaos in the world, getting screwed by those making the rules. But you're scared, lazy, fat, and stoned on the crack they gave you to keep you entertained while they do their work, you chasing your tail, paying through the nose for your own slow suicide, eating your gruel in the meantime. You think I'm crazy to think like I do? Guess what? That's why we're getting kicked around the playground for our lunch money – THEY think like that. I feel like a fool sometimes, sure. It's never easy to be the smarter minority. But if you're just going to laugh and shrug, I can only die a little more inside, and you're still worse off – already empty…
If you knew the weight of the shame in that split second it takes you to shrug it off, you'd be embarrassed for yourself. You'd abandon your children just because you couldn't bear the thought of them even seeing you. You're not a spectator of the madness in the world, you're an accomplice, a genocidal maniac. You'd rather look at me like I've got three heads, than admit you're crack addicts that don't want to give up the pipe. I'm ashamed for you. I'm ashamed OF you. You're the reason why something smarter is going to dig us up in a thousand years, sniff, s**t, sniff, and bury. That's fine if you want to waste away, but you're taking the whole f**king planet with you, and I resent you for it.
I still want to pinch your cheeks sometimes, though…
Peace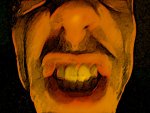 ​