One of my earliest memories of my brother Jim is that he always wanted the more unusual pets. He wanted to raise pigeons, so my father built him a pigeon coop. I can remember standing inside it with Jim trying to catch the pigeons. From him I learned there are tumblers (these birds roll over backwards) and rollers (these do somersaults).
Then, he wanted a snake, so my father built a huge snake enclosure in the backyard. He named the snake Crictor, the Boa Constrictor. I remember my brothers would tease me that I could wrap a snake around my neck but I'd run screaming like a little girl (I WAS a little girl) at the site of a daddy long legs. Poor Crictor died when the heating element got left unplugged. The dangers of letting little kids take care of exotic animals.
Speaking of spiders, my brothers were merciless in their spider torment of me. They would toss the aforementioned daddy-long-legs at me (which probably had no chance of hitting me or even getting on me, but of course, in my terrified mind they were all over me) When I tattle-taled on them (something I did often - I'm not proud of that (don't Judge!)), they got me back by cupping their hands together and pretending they were going to throw a spider at me, but in fact they had nothing but air in their hands.
Which left me with nothing to tattle-tale on.
Then, one day, Jim gets a BB gun. He somehow convinces me to stand under a tree in the backyard and hold my thumb and finger in the shape of an 'O' so he can shoot through it. Of course he shot me right in the thumb. Jim was good at convincing my brother Bob and I to do incredibly stupid stuff, and we'd do it, no questions asked. My brother Bob jumped off the roof at Jim's suggestion. That one involved some surgery. Here he is, back then.. isn't he kind of Dennis the Menace-like?
About this time, music came into the picture. Little did we all know back then what a huge role it would play in his life. It started with the drums. I remember Mom telling me that at a school performance Jim did a drum solo so amazing that it was pulling people in from outside to see who was playing. That may have been just a 'proud Mom' story, but knowing Jim there is most likely a lot of truth in it.
Then came "Crystal Mud." That was the name of Jim's garage band. My father stapled egg cartons to the walls of the garage to soundproof it so Jim and the band could play. They found this old discarded rusted out bomb casing (don't ask me how or where they found THAT) and painted the words "Crystal Mud" down the side. Thus began a lifetime of music and without a doubt the most talented musician I have ever known. Jim can play the drums, clarinet, flute, saxophone, piano, trumpet, flugelhorn, and guitar. This is what the Crystal Mud bomb looked like.
Jim went to Europe and travelled for a time at a very young age. Mom was incredibly worried, but grateful when he came back intact.
Working as a musician in the early years came with a lot of alcohol consumption. One night, he got so drunk that he couldn't find his car at 2am when the bar closed. So, he decided to sleep under a bush. The club owner found him the next day and said "Jim, you are a great musician and a good guy, but I can't have you play at my club anymore". After that he went to AA and has been sober for almost 30 years.
Jim went and got a degree in electronics and went to work for Yamaha repairing the musical instruments he loves so much. This led to the start of his life as an entrepeneur, running several succesful businessess. He invented several audio devices that were quite succesful, including the Micro Mixer (a wifi iphone/ipad audio mixer). This is the app he designed for his mixer.
And here is the device that goes with it:
He got his pilot's license. One day Jim and a friend flew from San Francisco to Los Angeles and somehow accidentally ended up in LAX airspace. Jim wasn't flying the plane but his friend got chewed out by the FAA for 20 minutes when they landed.
All this time he was honing his skill on the saxophone. He played with many "big names" in music. England Dan and John Ford Coley, Elvin Bishop, etc. He worked for a time as a sound engineer for the Grateful Dead. If Grace Slick walked into a room and saw him she'd say "Hi Jim". Hearing Jim play the saxophone (or any of the myriad of other instrument he can play) is always such a joy for me. He told me this story of a Grateful Dead/Santana concert he staff for in 1987. He was setting up for the show and needed some help with some of the equipment. He turned to someone sitting nearby and asked if they could give him a hand. The man said "sure" and jumped right up to help. Later, Jim sees the same guy onstage and realizes he had asked Carlos Santana to help him setup. And, Carlos was such a nice guy that he did help. Here's the staff badge.
He was lucky enough to have met the love of his life, Alida. I'll let him tell that story himself, from his Valentine's Day facebook post:
About 15 years ago I was playing at the Gemini in Lake Oswego. I had recently moved to Portland and was tired of being single. I had been clean and sober for ten years but still had a bit of the irresposibility that went along with the drinking. I decided to sign up on match.com the online dating website. I would let a propective girlfriend know where I was playing so that they could come to the gig and check me out. They could introduce themselves if they felt there was a possibility of hooking up and not introduce themselves if they thought otherwise. On this nite at the Gemini my future wife Alida decided to introduce herself and we had a nice talk during my break. She told me she lived in the Hollywood district and had two dogs. After that we met a couple more times and each time I felt more attracted to her. When I asked her to marry me a about year later she said yes! We had a fabulous wedding at the First Unitatrian Church on Salmon St. ]We had an amazing honeymoon on Kawai. My job with AP gave us an opportunity to travel quite a bit and we had some great road trips as well. We have been to Europe, Instanbul Turkey, Mexico, Nova Scotia and all over the USA. We love to travel together. Meeting Alida has been one of the most important gifts in my lifetime. She grounds me and keeps me focused on what matters today. We always say to each other that if we had met earlier in life we would have had children and she would have been the best mom a kid could have. So.. for fifteen years now she has been my muse, my lover, my best freind, my coworker, my nurse and the list goes on. she will be in my heart and soul forever.
I am so grateful that Alida came into my brother's life and made him so happy.
If you click on this link you will hear a tune called Swampiness that he recorded. He is playing every instrument you hear, Drums, Bass, Hammond B3, Guitar, Tenor and Alto Sax, and Harmonica.
https://soundcloud.com/check12/swampieness?utm_source=soundcloud&utm_campaign=share&utm_medium=email
One of the most amazing nights of my life, I will never forget. A few weeks before my brother died, all my cousins showed up and grabbed an instrument from Jim's studio and crowded into his bedroom. We had 2 trombones, a flugelhorn, a saxophone, 2 trumpets, a clarinet and a flute. We all played with Jim, as he sat in his bed. Most of us could barely make a sound out of the instruments we held, but we all put on hats (
Jim always wears hats
) and gave it all we got. We did "When the Saint's go marching in", "You are my sunshine" and the likes. If you were lucky enough to be seated next to Jim (even as sick as he was from the cancer), you not only knew the song but were amazed at the riffs coming out of him. If you were unlucky enough to sit near the rest of us well, your ears probably bled a little. I cannot think of a better send-off. Here's my son, with a soprano sax, and a Jim-hat.
My brother and his wife loved dogs, and one of their dogs had been wearing the "Cone of Shame" for a typical dog issue. My brother wanted to make his wife laugh, so he insisted I take the cone of shame off of the dog and put it on him. Then he stole his wife's phone and made this the wallpaper. He was in so much pain at this point, it was amazing for him to even sit up, much less navigate a phone to change it's wallpaper.
A few days before he died, we found this on his computer. Those of you who can read music will know what this means. Eternal Rest. This image is on his tombstone and my son had it tattooed on his shoulder.
Jim bought an infinity necklace (the infinity symbol in solid gold) and this arrived for his wife exactly 2 weeks after he died.
This is us, his family, trying very hard to live up to him by singing at his funeral (this is the rehearsal).
https://www.youtube.com/watch?v=kNZyQwDEkIc&feature=youtu.be
And this is James Carl Williams: Husband, musician, pilot, inventor, entrepeneur, audio engineer, uncle, cousin, dog lover, and my incredible and amazing brother.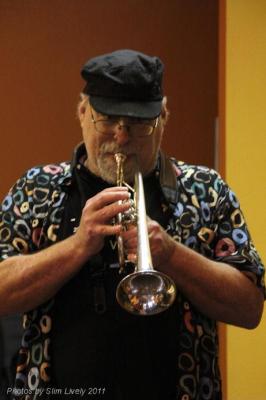 I miss him so much.