Joined

Aug 26, 2019
Messages

18,604
Reaction score

1,541
Gender

Male
Political Leaning

Conservative
Here's the whiny article from Huffpo. (Where else?)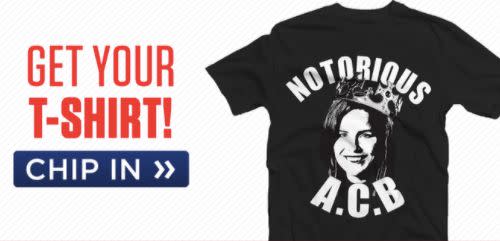 "You must be so proud," one disgusted observer wrote on Twitter, mocking the Republican fundraising scheme exploiting the late Justice Ruth Bader Ginsburg.
www.yahoo.com
Critics on Twitter were aghast Saturday as the GOP peddled its latest product: a "Notorious ACB" T-shirt, ripping off the hard-earned and respected nickname of the late Supreme Court Justice Ruth Bader Ginsburg.

The shirt went on sale just minutes after President Donald Trump formally nominated Amy Coney Barrett to replace Ginsburg in a process Democrats are calling an illegitimate rush to ram through a conservative judge with just over five weeks before the presidential election.

The shirt was posted online by the National Republican Senatorial Committee, which raises funds to help elect Republicans to the Senate.

Observers were appalled at the stunning lack of respect for Ginsburg, whom many fans referred to as the Notorious RBG and who had lain in state in the Capitol just the previous day.
This is so great. How dare the Republicans? Don't they know only Democrats are granted the reverence of being called by their initials: FDR, JFK, LBJ, BHO, RBG. You can't think of a single Republican referred to that way. Only leftwingers get to be referred to so chummily, so iconically.
It was a stupid tribute anyway, when they did it for Ginsburg. I find it hilarious the GOP has tweaked the left with their own grandiloquence. These people take themselves SO seriously.
Last edited: