Trump calls himself the Law and Order President.
Nonetheless, what Trump is doing is straight from the Mafia Boss Guidelines Book:
Unfortunately for Trump, he is coming across like
https://torontosun.com/news/local-news/mob-muddling-incompetent-hit-team-fails-to-ice-musitano-again
who was the incompetent Mafia Boss that brought to the screen the movie called "The Gang That Couldn't Shoot Straight". A mafia boss that was supposed to eliminate another crime family but failed after "repeated" attempts.
Having a Mafia Boss as President is bad enough but having an incompetent Mafia Boss as president is adding insult to injury.
By the way, if you have any doubts about Trump using Mafia tactics, let me show you facts that should clear up your doubts.
Trump's Tutor was Roy Cohn
One of Donald Trump's most important mentors

, one of the most reviled men in American political history, is about to have another moment.

Roy Cohn, who has been described by people who knew him as "a snake," "a scoundrel" and "a new strain of son of a bitch," is the subject of a new documentary out this week from producer and director Matt Tyrnauer. It's an occasion to once again look at Cohn and ask how much of him and his "savage," "abrasive" and "amoral" behavior is visible in the behavior of the current president. Trump, as has been well-established, learned so much from the truculent, unrepentant Cohn about how to get what he wants, and he pines for Cohn and his notorious capabilities still. Trump, after all, reportedly has said so himself, and it's now the name of this film: "Where's My Roy Cohn?"
and here is a pic with Cohn and Ed Koch. Read about
Ed Koch here.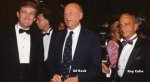 So, what am I trying to say?
Trump is using Mafia tactics (stimulating and using people protesting, rioting and looting) and then offering himself as a solution to fixing the problems ("I alone can fix it. The problem is that he is so incompetent that he is failing miserably as he is unable to provide the protection from the very same things he is causing to happen.