Yes, this is about gun control... its about controlling your gun.
I got to play with one of these at the gunstore yesterday....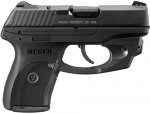 I rather liked it. It's 9mm, 7+1, but at 4.5" tall, 6" long and 18oz it could be a pocket gun, and the price is reasonable. I'm actually kind of unsure on the laser, though. With the under-mount, when you raise the gun to eye level you don't really see the dot because the gun is in the way. Now at close quarters I use the pectoral index or center-lock and don't really need a laser for that close... at any greater distance my training and habit is to raise to eye level, letting the sights line up by feel, and again the laser isn't useful in that position. If it is dark enough that I can't see the sights, I probably can't see the target either... in which case I need a LIGHT more than a laser. Thoughts?