RE:
apdst's 'Bully Smackdown' thread
I was bullied in school. From grade 2 until high-school ended. I moved around a lot, so it didn't matter if I built my rep at one school, I had to start all over again at another…
I was small as a kid, a late bloomer too. But I was pretty popular with the girls whenever I showed up at a new school. I can't help the facts, folks, PMF was pretty cute, so he's been told
(by his mother)...
Annnnnyhow, the 'cool' guys didn't seem to like the new kid getting attention. I always tried to 'reason', but I'm a bit of a smart-ass, would end up making them look stupid, get my smart-ass kicked.
One day, in grade 7, I was approached after school like I was warned. I had hit my breaking point, felt I had nothing to lose – the worst kind of foe. He open-hand slapped me. SLAPPED me. I was little, but I was no girl. I swung, broke his nose, down he went, crying, blood pouring out from under his hands. I couldn't believe it, looking at my numb hand like I had no idea what it was capable of. The two girls with me were giddy, urging me to run, get out of there, so we took off, unable to contain surprised laughter, nearly skipping… Nobody bugged me after that, but I only had two weeks left at that school.
On my last day, I wound up under a van when 12-15 kids rolled me from behind. Face plant into a white van, turn, sea of angry kids, stop, drop and roll, baby. Oddly, I was the one being called a '*****' for not fighting a dozen kids at once. And I felt like a ***** too, cowering under a ****ing van kicking and punching those grabbing hands away for Lord knows how long before they got tired and left. I stayed under for a while just to be sure they weren't tricking me either, then ran all the way home with one eye over my shoulder, glad I never had to go back…
Anyone who would dare make one excuse, or worry about a bully's safety, has no ****ing clue what it's like to live in fear every day for years. Fear of humiliation, fear of harm, fear of retaliation if you fought back too hard. You can't tell your parents, you can't tell the teachers, you just have to live with it or lose whatever shred of dignity you have left, face even worse. It's ****ing awful, I get choked up thinking of kids killing themselves over this **** – I was there, thought about it…
In high-school there was a short period where a kid two or three times my size would shove me into the lockers as he went by. It got to the point where I couldn't even be at my locker without eyes in the back of my head, lest I face plant white metal again when I least expected it…
One day, my Phys-Ed teacher was just down the crowded hall talking to another teacher. Ass-Munch was coming toward me again. I attacked him with everything I had, without warning. I got a few good shots in, Ass-Munch on nothing but 'D', before the teachers broke it up. Not only did Ass-Munch stop hounding me, but the gym teacher thought I was crazy to go after someone as big as him with a flurry he'd never seen before, gave me a little wink too. I felt like a million bucks, welts and all… (We didn't get suspended so easily back in those days)
And Leo, maybe you haven't been in a fight if you're worried about where ledges or concrete are. None of that matters when your getting your ass handed to you on a daily basis, and it finally erupts. What about the 'victim's' safety when they asked for none of it? Tweed-Nugget is the one who should have thought of it beforehand. He was an idiot not to walk away, as some suggested, after the first punch had zero effect. Alpha-Chihuahua had it coming, should have saw it a mile away, as I did with glee. You don't pick on a Mac Truck when you're a dinky car…
Mac handled it superbly. He could have run over the little ankle-biter, but he was the bigger kid, and walked away – even from another aggressor he probably could have destroyed as well. I wish Tiny Dancer lost some teeth in that devastating body slam too. That stupid grin/grimace he had afterward was just him trying to save face. I'd done it a million times when I really wanted to cry and run…
If he wound up a quadriplegic or dead I wouldn't feel the least bit sorry for him, but maybe his family. I would want to see it used as an example of how this **** escalates, and what being forced to defend yourself can bring about – and of course, what can happen to bullies when they're luck runs out. Nobody wants it, least of all the 'victims', so bullies F**K OFF.
In fact, is it awful to say that with all the attention this story got, it would have been better if Twinkle-Toes did die…? I don't like it, but how many bullies would think twice about picking on the fat kid? How many kids are dead inside because of bullies? How many have killed themselves? A little swap of places…? Though, I wouldn't want to see Mac in major trouble for simply ending the situation Ali-Wannabe started… (if that is indeed what happened)
From where I stand, which is obviously heavily biased, I would recommend any kid being bullied do their best to f**k up their aggressor as best they can – broken nose, body slam, whatever. Use whatever cheap method you can, like knowing there's teachers just around the corner… Bullies don't fight fair, nor should you. If there's no witnesses, go for the balls, a sucker punch, whatever…
Pay your fine, live free the rest the of the time, with some dignity and respect. If it takes 12 of them next time, at least you're rep is 'bad' enough that nobody will take you on mono-a-mono, and you've got a legitimate excuse to get adults/cops involved if it persists. They likely won't touch you for the year, but watch your ass on the last day of school.
Plus, once you break one nose, and/or experience the pain of getting hit in a full-on fight, it gets easier. There's not much to be afraid of, unless knives, guns, etc are involved… FIGHT BACK – HARD. Prove that still waters run deep, will defend itself, just to remain still waters. Getting hurt physically is far less painful than the times, or memories of when you did nothing…
Maybe it's not great advice, but seeing that asshole with two black eyes and a crooked nose for the last two weeks was… Well… Glory does indeed last forever… I barely remember the beatings, but I remember that like it was yesterday. If I'd have put him in a wheelchair for life, not so good, but my fault? Unlikely. As the title suggests…
Peace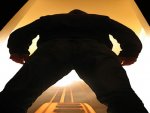 ​