Joined

Nov 30, 2011
Messages

1,356
Reaction score

1,001
Gender

Male
Political Leaning

Undisclosed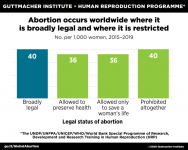 1) Although it may appear counter-intuitive, but International studies have repeatedly confirmed that the legal status of abortion appears to have a minimal impact on a woman's decision - whether it be provided under proper medical conditions or a return to the "BAD OLD DAYS" with high mortality rates!
2) There appears to be no reason to believe, however, that b merely overturning Roe v Wade will translate into the desired effect of higher rate of compliance in America concern full-term pregnancies - an outcome that has not been the case found in the rest of the world!

3) The reality is that in the 21stC, the nation's young women feel that they are under no obligation to accept the moral standards being imposed by older affluent, predominantly male state/federal politicians and Supreme Court justices far removed from those social, economic and cultural realities that they face every day!

4) The 7-2 decision (5 Republican justices in the majority) by SCOTUS in 1973 to support Roe v Wade based on their interpretation of the freedoms guaranteed under the 14th Amendment enshrined a woman's right to make this difficult private, personal decision within the 1st trimester - free from government coercion!

5) For the nation's young women, Roe v Wade is "ancient history" and the only reality they know - for them the "FREEDOM OF CHOICE TRAIN" left "THE SCOTUS STATION" 49 years ago and the America of the early 1970's is not about "TO MAKE A COMEBACK IN THEIR LIFETIME!"

6) If the ProLife advocates were seriously interested in reducing the nation's abortion rate, instead overturning Roe v Wade which will have little or no impact, they should be dedicating their time and effort to enacting those government programs that have been successful elsewhere to encourage young women to decide that a full-term pregnancy is a viable option!

7) The US doesn't compare favorably with other modern democracies when it comes to infant mortality rates, availability of public sponsored daycare, universal health and dental care, inner-city violence, gangs, racial unrest, etc,

8) It should therefore come as no surprise that for America's young women, particularly those from visible minorities, such factors would make them more apprehensive when it comes to making those long-term commitments required to raise children - without the support provided by other more progressive, "child-friendly" nations!
Last edited: