Putin = War Criminal
DP Veteran
Joined

Apr 18, 2013
Messages

81,539
Reaction score

66,513
Location
Gender

Male
Political Leaning

Independent
If You Can Grocery Shop in Person, You Can Vote in Person
Experts now say the health risk of casting an in-person ballot is relatively low. Will Democrats tell their voters that?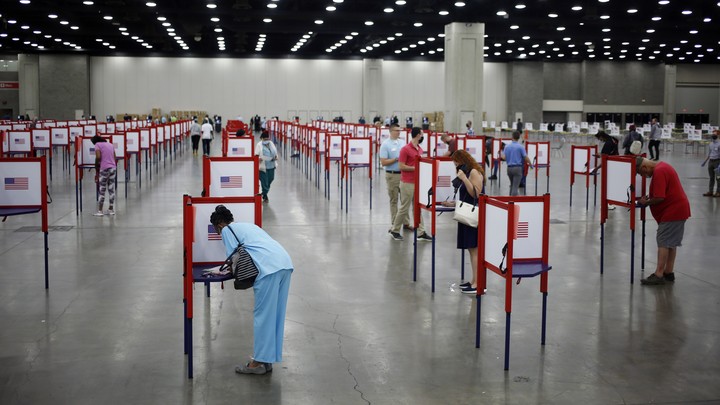 9/8/20

Zeke Emanuel has a message for jittery Americans ahead of a momentous election: Voting in person during the coronavirus pandemic is about as safe as going to the grocery store.

In early July, Emanuel—the bioethicist and former Obama-administration health adviser—led a group of experts in developing a detailed and widely circulated chart that advised Americans about the relative health risk of more than two dozen common activities. Nowhere on the chart, however, was an activity especially important in 2020: voting. Its absence was conspicuous at a moment when the safety of this basic civic act has become the subject of a deeply polarizing national debate. Even now, after the country has gradually and often fitfully reopened, some Democrats are reluctant to say definitively whether it's safe to vote in person. Yet with the start of in-person early voting just weeks away in some states, Emanuel is back with an update. Public-health officials have learned a lot about the transmission of COVID-19 since the spring, Emanuel told me, and the message around voting must change. "There's a legitimate concern, but I do think we can make it much safer by following the precautions," he said. "You don't want people to be disenfranchised by the pandemic, and you should encourage people that it's safe. It's like shopping."

In-person voting is no more risky than going to the grocery store, Emanuel argues, as long as certain safeguards are in place, the same measures many Americans have become accustomed to since the spring: Wear a mask and line up at least six feet apart. Voting locations should have plexiglass barriers separating poll workers from voters, as well as disinfectant to wipe down commonly used surfaces and objects. (In the risk-assessment chart—which Emanuel created with James P. Phillips, the chief of disaster medicine at George Washington University, and Saskia Popescu, an epidemiologist at the University of Arizona—voting would also go in the same low-medium risk category as playing golf or tennis.) Emanuel told me he hopes to correct perceptions about voting that, for many people, haven't changed since early this spring. The Biden campaign says it plans to spend part of its $280 million fall budget on an "unprecedented" voter-education campaign to inform people in key states how they can cast their ballot safely and securely. As November approaches, and concerns about Postal Service delays potentially mount, the messaging may have to shift toward in-person voting. "We are giving people options of how to vote, and then letting them make the decision of what they think is safe."
My polling place is a short walk away from where I live and that is what I intend to do on November 3rd. Take that walk and then vote in person.
I did so for the primary, and was totally satisfied with the coronavirus precautions in place. Dems need to realize that voting in person is safe, quick, and you know your vote will be counted.