Joined

May 6, 2016
Messages

1,896
Reaction score

470
Location
Gender

Male
Political Leaning

Independent
This is my opinion of what the government budget should look like based on this image Source:
https://www.nationalpriorities.org/analysis/2015/presidents-2016-budget-in-pictures/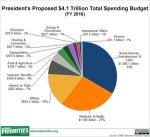 The blue and orange sections should be moved to state level to allow each state to determine benefits. Military spending should be cut at least in half. We are not at war with another nation, why do we need to spend 16% on the military? And to top it all off, the republicans want to spend even more on the military whilst making a very low tax.
Both international affairs, energy and environment, and science should be increased to at least 10%. The US government needs to increase its foreign aid to other countries, particularly african countries. The government should also get its best scientists to cooperate with private companies in developing an alternate energy source, preferably one which powers individual homes rather than it being from a power plant. NASA would be able to make much more progress if they didn't only get only 1% of america's budget. A budget increase for NASA will allow america to achieve so much more in the realm of space. Education could also use a budget increase or the country could move towards privatization. Currently, private schools are for the rich and upper middle class and are very expensive. Currently, public schools have less quality because the schools are funded by tax dollars and have no incentive to improve. Private schools on the other hand strive to provide children education for their parents' money. If the education is not ediquate, the parent finds another school, simple as that. Public education can then be renamed "welfare education" for low income families.
What are your ideas for an ideal government budget?