Joined

Jul 29, 2009
Messages

34,447
Reaction score

17,235
Location
Gender

Male
Political Leaning

Conservative
I don't understand why Martin supporters and race baiter's feel it's necessary to make false comparisons and lie, when doing so makes both the country, as well as our judicial system look bad? If you don't know what I'm talking about, then this photo that my liberal aunt posted on her Facebook page should explain it perfectly.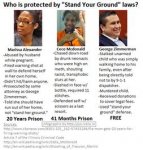 Obviously that picture attempts to portrait the Zimmerman verdict as one that was based on race, to paint the judicial system as racially biased, and to imply that the "stand your ground" law is one that only benefits people who aren't black. There's just one problem with that picture though...
it's a big fat LIE.


First there's the case of Marissa Alexander, who attempted to justify her actions in court using the "stand your ground" defense. Her efforts failed and the reason they failed had nothing to do with race. She was threatened and trapped inside her home by her ex-husband, who refused to leave. She managed to escape the danger and got out of the house, but instead of going to a neighbors house for safety or calling the police, she went out to her car, got her gun, and went back into the house to confront him... The stand your ground law allows a person to meet force with force with no legal obligation to retreat. In her case however, she did retreat, fled the house and was no longer in danger or being threatened. By going back into the house with her gun, she willfully injected herself back into that threatening position, she became the aggressor, and by law forfeited any right to claim legal self defense... That's exactly why the judge in the case ruled against her, and it had nothing to do with her being black.
So the claim in that picture that the stand your ground law failed to protect her, is nothing but a lie...
Next is the Cece McDonald case and this one couldn't be any more dishonest... First, the prosecutor offered her a plea deal 2 days before the trial and she took it, so the case never went to trial... Second, and this is a biggie....
Minnesota doesn't even have a stand your ground law, therefore it couldn't have possibly failed her.
Lie, lie, big fat stinking lie... That's all that picture is...
I just don't get how people can use lies like this to justify their beliefs or prop up some agenda, when they know full well that those lies stir up racial hatred in our society, cause people to commit acts of violence against innocent people, and weakens the publics confidence in our judicial system, leading more and more people to take justice into their own hands... Are your beliefs that weak, or is your agenda that important, that using lies and deception is the only way to bring them legitimacy?
Last edited: