Lady of the house wonderin' where it's gonna stop
DP Veteran
Joined

Sep 23, 2006
Messages

10,836
Reaction score

3,637
Gender

Undisclosed
Political Leaning

Undisclosed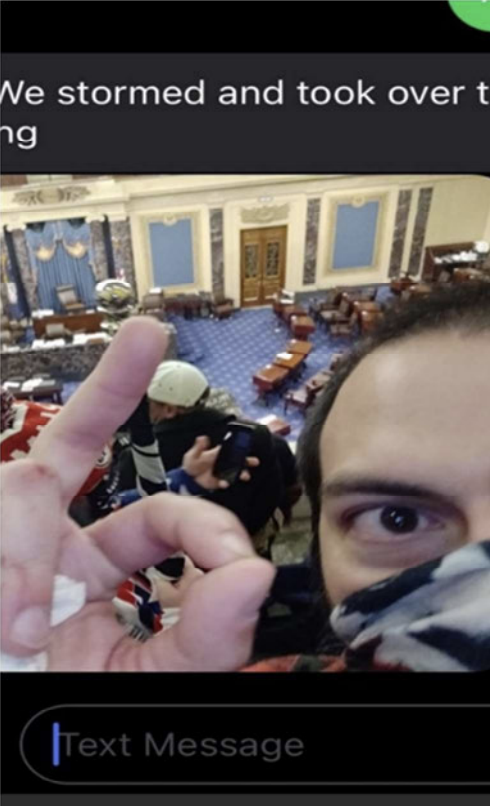 QAnon may have been more important in and successful at breaching the Senate itself than either the Proud Boys or the Oath Keepers.
www.emptywheel.net
May 1, 2021
"..QAnon managed to get far more of their adherents to the Senate floor than either the Proud Boys (Joe Biggs and Arthur Jackman showed up after getting in with the help of people inside) or the Oath Keepers (..showed up too late). QAnon held a prayer on the dais while the militias were still breaching doors."
A short video captured inside the U.S. Capitol Building on Jan. 6 shows perhaps the most heroic (and heroically restrained) performance by a police officer on that day, as well as the criminal trespassing of an Iowan on the halls [...]Read More...
littlevillagemag.com
January 15, 2021
The self-described poster boy of the January 6 insurrection got there, he told the FBI, as a result of four years of information operations, starting with Russia's attack on American democracy in 2016.
www.emptywheel.net
April 12, 2022
"... It reveals how Trump's propagandists won the allegiance of a blue collar union member...
..Jensen got radicalized into QAnon. ...he came to believe the misrepresentations he read (pushed, in significant part, by accused Proud Boy leader Joe Biggs) of the Podesta files. .. Jensen was left with a void, which Q drops filled shortly thereafter. After that, Jensen came to believe Trump's lies that he had been shafted by the Deep State, by some guy (Peter Strzok) and his girlfriend..."
FBI Interview, released 04-08-2022
DOUGLAS AUSTIN JENSEN
Also, Q said — Q has said things, okay, so like — and anonymous, okay. I follow that, Mayjan (ph.) and all that stuff, you know, because basically I was not into politics until the Wiki leaks dropped, and then when I realized about Haiti, and the Clinton Foundation, and the kidnappings all through the Clinton Foundation, and then I learned about Epstein Island and then I learned Mike Pence owns an island, right — or not Mike Pence, Joe Biden owns an island next door, and then I find that Hunter Biden and Bris Moldings (ph.) and all that, I knew about that a year or two ago.
[snip]
It all started with all the crap I found out about Hillary Clinton, John Podesta, you know, all of that stuff, and then so right before I was going to vote for Hillary, I was like, whoa, we've got to vote Trump in because we can't have Hillary
. And then I start finding things like we were supposed to be dead by now, and if Hillary would have won, we were going to be attacked by North Korea or Iran. We were going to go to war, and we would most likely — half of us wouldn't be here right now if Trump wouldn't have won that election is what I got from it.
[snip]
You guys have an FBI thing that you released all that Ben Swan who was on ABC years ago and he tried to expose pizza gate and he got fired that night from ABC, and he works for RT now.
[snip]
I am for America, and I feel like we are being taken over by communist China, you know, and the whole Russian collusion was fake. I don't know what the deal with Russia is, but I don't know, Vladimir Putin, he seems to be like a decent person, but I could be crazy, you know. But I think we were taught from a young age to hate Russia and all of this stuff. I've researched on Vladimir Putin.
I was like this guy don't seem so bad, you know
, but I don't know, you know.
[snip]
A. And all this information, and Trump's taking down all these people, you know? And — well, firing them or whatever, you know? Like Brennan, Clapper, you know, that guy that I hate with his girlfriend, I can't remember their names. Those texting back and forth. But they were all like top, you know, members, they're high up and stuff.
Q. Yeah.
A. And you saw that they were out to destroy Trump, and they were members of our, you know, Central Intelligence or our FBI, you know?
[snip]
I did not preplan nothing. I am not a leader. I am just a hardcore patriot. I am a diehard — I believe all this stuff to be true, and I feel like
Trump's just got the absolute shaft from everything around, our own government, the media
.
[snip]
So I voted both terms for Obama, and during the presidency, I thought he was a great president. The health thing. The health thing didn't benefit me and my family because I had union health insurance. So I got no benefits from it, .. And then
I was going to vote for Hillary because I've been a democrat my whole life
.
Q. Yeah.
A. And then the WikiLeaks thing happened and I had to start questioning where I was getting my info from. And that's when I realized, you know, holy cow, I can't vote for this woman. And then it became — like I started telling everybody I know about WikiLeaks and everything else back then. And then that died off when Trump won. And then
I didn't really have anything
. I was happy Trump won, you know? And then all of a sudden Q drops started. And it was just — that's all I did —
Q. Yeah.
A. — was follow those Q drops."