Joined

Jan 28, 2006
Messages

51,123
Reaction score

15,259
Location
Gender

Male
Political Leaning

Independent
An unfortunate disregard for the law and a short temper land you in a dilemma to either expose your crime or risk severe injury.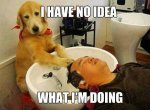 You are 17 and you live in Florida.
With family problems and being a bit of a social loner, your tolerance for other people's attitudes is pretty low. One evening while returning from a friend's house, some random driver nearly hits you with his van as you cross a street. He yells a colorful comment to you, you yell a few descriptive adjectives back, next thing you know this guy is following you down the road.
While it's clear that you like to run your mouth just to be a ****, the driver is apparently not just irate but perhaps intoxicated and/or on drugs. The verbal back and forth continues for a couple minutes, and then the driver get's out with a bat, screaming threats to bash your head in and quickly moving in.
You are illegally carrying a loaded concealed handgun and this guy is right on you with a bat. You cannot escape without getting hit at least once, and the driver would certainly run after you.
What do you do?
Last edited: