Joined

Jan 28, 2006
Messages

51,123
Reaction score

15,259
Location
Gender

Male
Political Leaning

Independent
You live in a small town, a Midwestern version of Mayberry, or maybe a quiet suberb just outside the city. Nice town, well kept, folks get along and help out. Friendly folks, friendly cops, and most everybody supports the police.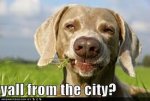 There's a younger guy, a long-time resident, about 24 years old, who frequently takes walks around town. He's clean cut, jeans and t-shirt, smiles and waves at folks, and occasionally picks up trash into a bag as he walks around....with an AK on his back.
Openly carrying any firearm is perfectly legal in this town.
As this young man waves at neighbors, they do not wave back. They call the cops.
A lot
. The cops have to respond, and they have advised him that in no way is he helping his cause. Folks are freaking out.
The problem is that he is staring to influence folks who have no dog in the fight. Those who don't care one way or the other about guns are starting to care. They are afraid, and that's usually when detrimental things get started.
On one hand, he is doing nothing illegal, and you can tell by the way he carries it that he's putting on a show. So no harm done, but it's making gun owners in general look bad, at a time when we need more than ever to look good.
As a resident of this town, what, if anything, do you do?
*****
Last edited: