Joined

Jan 28, 2006
Messages

51,123
Reaction score

15,259
Location
Gender

Male
Political Leaning

Independent
You accepted an invitation to a birthday party in your home town.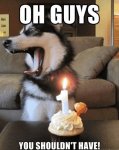 The evening of the party, you make a series of mistakes leading to a bad situation you must now deal with.
You park on the only available street with a space within a reasonable distance to a party. The street is quite dark and near an area of crime. That night as you walk back towards you car after leaving the party, still half a block away from your car, 4 guys walk quickly towards you appearing around one corner. They begin to yell out insults and when near, their seeming "leader" stands in front of you blocking your way forward on the sidewalk and says something like: "
Hey my friends Mr Suit and Tie here looks like he has some good money on him
" and all 4 begin to joke about your fine clothes and money you must have on you - as the same time each slowly moves into a circle around you, one either side, one behind and the original guy in front.
At this point you sense an attack that could be moments away. It's not happening nor is anyone actually threatened you directly. Their taunting talk about your money and physical moves into a circle around you feels very threatening to you.
What do you do?
*****
Thinking and Self-Defense
Boyd