Photo of me taken in the Army 1963
Banned
DP Veteran
Joined

Sep 3, 2018
Messages

30,122
Reaction score

3,395
Location
Gender

Male
Political Leaning

Centrist
I assure you if you go visit Mt. Vernon or Monticello, you can see real slave quarters and once you do, you will know Slaves lived much better than what is presented today.
There is in North Carolina a Mansion of 10,000 sq ft that exemplifies what slaves lived like. It was normal. Masters would not want crude shacks on their property.
Today would you want crude shacks on your property?
Slave quarters described.
The Slave Quarters
Picture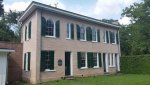 Restoration of the entire building was completed in 2014.
On the northeast corner of the lot stands the original two-story brick slave quarters. The neatly but plainly finished brick building typifies urban slave quarters in the late antebellum South—one room deep and three rooms wide, with stepped parapets rising above the roof and a windowless back wall along the property line. While now rare, this type of slave quarters could once be found in any city where slavery was legal—from New York to New Orleans—and stands in stark contrast to the small, crude slave huts associated with plantations and rural areas.
James F. Post designed both the exteriors of the slave quarters and the carriage house to complement the main house. From the lime washed brick walls to the matching window styles, the three buildings share many aesthetic features. The slave quarters building includes four sleeping chambers, a laundry room, and two five-seat privies.
​
Today, visitors can tour through both levels of the original slave quarters—one of the best-preserved examples in the country. One sleeping chamber, the laundry room and privies can all be toured without climbing stairs. Three sleeping chambers are located on the second floor and require climbing one fairly steep set of stairs to access. The building is not air-conditioned.
The Place - BELLAMY MANSION MUSEUM