Ruscism = Russian fascism
DP Veteran
Joined

Apr 18, 2013
Messages

85,542
Reaction score

70,819
Location
Gender

Male
Political Leaning

Independent
House Democrats claim Whitaker owes money to 'scam' company so its victims can be repaid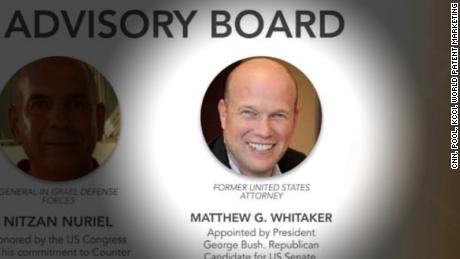 2/8/19
Acting Attorney General Matt Whitaker is being accused by House Democrats of not repaying more than $9,000 in funds to a now-shuttered, "scam" patent company he was involved with so that the money can be returned to victims. "We have obtained new documents showing that you failed to return thousands of dollars that were supposed to be distributed to the victims of World Patent Marketing's alleged fraud, despite your involvement...in handling complaints from individuals of the company's actions," four House committee chairman wrote in a letter to Whitaker dated Thursday. The four chairmen -- Reps. Elijah Cummings of Oversight and Reform, Jerry Nadler of Judiciary, Adam Schiff of Intelligence and Frank Pallone of Energy and Commerce -- also wrote that Whitaker has failed to "provide a single document that we requested" back in November about his involvement with World Patent Marketing. In November, Cummings released a statement that Whitaker's role at World Patent Marketing called into question serious concerns about his ability to be interim attorney general. "These new documents suggest that Mr. Whitaker was personally aware of allegations of fraud by World Patent Marketing and its CEO at the same time he was receiving payments as a member of the Advisory Board," Cummings said.

In 2014, Whitaker was named an advisory board member to World Patent Marketing, a Florida company that promised to help investors get patents. In one document released Friday by the Democrats, a payment record shows Whitaker was paid at least $9,375 by the company from October 2014 to February 2016. World Patent Marketing was hit with a $26 million judgment and shut down by the Federal Trade Commission in 2018 over what court documents called "an invention-promotion scam that has bilked thousands of consumers out of millions of dollars." Justice Department spokeswoman Kerri Kupec said in a statement in November that Whitaker "has said he was not aware of any fraudulent activity. Any stories suggesting otherwise are false." In October, 2017, the FTC sent Whitaker a subpoena as part of their investigation. Whitaker did not respond by the deadline on the subpoena, the FTC documents show. FTC documents released in November showed that Whitaker continued to sit on the advisory board even after learning of multiple claims of fraud made against it by disgruntled customers. The counsel for the company's receiver wrote to Whitaker in February 2018 demanding the return of the $9,375. In an email from December 6, 2018, the firm wrote to the staff for the House Committee on Oversight and Reform stating, "According to our internal records, Mr. Whitaker did not respond, either in writing or by phone, to the demand letter. Mr. Whitaker has not returned the $9,375."
Another Trump administration scam artist? Whooda thunk it?
Related:
Trump's Acting Attorney General Was Part of Miami-Based Invention Scam Company