Once again, as he did in the Orlando shootings, Pres. Obama
made the Dallas shootings
about gun control, not the shooters or their motivations.
But in doing so he's just following the media narrative chart: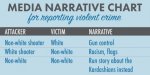 There are no proposed laws that would restrict the sale of semiautomatic rifles* per se, and so, again, what he's really advocating is something far more severe in the way of restrictions on guns than what they are proposing.
---
*Bans on assault rifles are proposed, but this is just a ban on rifles with a certain appearance. There are lots of semiautomatic rifles that work the same and are just as powerful as assault rifles but don't have the assault rifle appearance.
Example: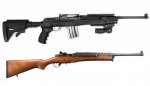 On top is the Ruger Mini 14 assault rifle, on the bottom the Mini 14 standard rifle. They are the same rifle with the same capabilities. The only difference is that in this picture the standard rifle has the small, 5 round clip. But it will receive the larger clip used in the assault version. Most of the assault rifle bans talked about would affect the upper rifle but not the lower.