OK, raise your hand if you are guilty of a habit that is common on forums like this one?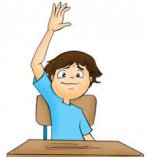 You see, I raised my hand too, because I know I am guilty.
WHAT THE HELL AM I TALKING ABOUT?
Simply this: we can't seem to walk away from a back n forth that is going nowhere.
We all seem to have this innate NEED to have the last word. If someone says to me I don't know my history, and I rebut by pointing out how I actually know more about history than they do, they are bound to come back and then question my intelligence and then I rebut that they can't match mine, and so on and so on and so on...
Someone says the Dems are the "evil" party, another rebuts saying it is the Repubs who are the "evil" ones, and soon those two all by themselves go back n forth till they eventually get into name-calling just so they can get "their licks" in.
Wouldn't it be easier to just state our point of view, back it up with some insightful or at least half-way sane points, then move on?
I mean if someone is DETERMINED to get the last word in or refuse to leave the conversation because they need to get one last "lick" in, is it worth it?
Here is a thought, let them have the last word, they will be eagerly waiting for yet another comeback from you and when it doesn't arrive, imagine how THAT makes them feel.
(Now if only I could follow my own advice)