Joined

Apr 3, 2013
Messages

4,308
Reaction score

2,530
Gender

Male
Political Leaning

Independent
So... I've been pretty blessed in life and today I work from home and could easily afford to take a two hour lunch, swing in to Dallas, and meet my wife at Cafe Pacific or the Cap Grille, and eat like a king.
But two things:
1. Life hasn't always been this way.
2. I'm not leaving home for lunch and going anywhere.
Instead, I'm going to sit on my couch and have a nice big bowl of this: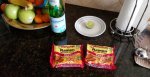 Eating noodle ramen is a "habit" I picked up in the Army, 20-something years ago, because it was cheap and easy to cook.
First, I could always afford it, even on the $600 a month I was earning as a Private. Second, you could fix it in a hot pot at 0300 after coming back to the barracks after a long night of drinking, or you could always have a hot meal if training kept you out in the field after the dining facilities closed, or you could even cook it in the field in a steel canteen cup over a heat tablet.
Look, I'm not going to make any bones about it, ramen (at least the kind I love) is a thoroughly disgusting food product.
It's loaded with sodium, brimming over with saturated fat, has virtually no soluble fiber, is just a nutritional time bomb, and the taste isn't
really
all that great.
But love it or hate it I've got a taste for it that I just can't shake.
My wife won't allow it in the house so I have to hide it, like a dope addict scoring his fix.
If she finds it she'll throw it away so I keep a couple packages stashed out in the garage in the Tupperware in which I keep an old pair of neoprene waders.
So I went out to the garage today and raided my stash, as I will once every couple of months, went to the gas station and bought a bottle of Pepsi, and I'm going to feast on garbage today (and tell my wife I made a nice green salad and ate the leftover NY Strip seat we had for dinner last night).
And it got me wondering if any of you good people have have similar guilty pleasures when it comes to eating.
I know there has to be someone out there sneaking the Easy Cheese or binging on little jars of Vienna Sausage or making a meal out of Slim Jims and Cheese its.
You too, my friend, are a disgusting person, but I think we need to own it.
Last edited: