So after struggling for several years with a rather nice (~$1000) Weber Genesis II left behind by the previous homeowners - I finally gave up and bought a Big Green Egg. Don't know if I'm doing something wrong but I never really hit my stride with the gas grill, preferring a small $25 Weber kettle I got on clearance for everything but convenience.
I'm very new to the ceramic grill/smoker scene - but so far I've been impressed by the results.
Mostly
All chicken thus far while I break it in and set the seals.
Anyone have some experience with this sort of grill? I have a couple of questions. The first is regarding the lump charcoal. I've tried a couple of brands and found all sorts of crap in the bag - plastic ties in one, and what appears to be a ball of melted aluminum in the Big Green Egg lump that came with the grill. Is this typical? Last thing I want to do is permeate the ceramic with burnt plastic.
Do you typically have to examine everything that goes in, or is there a better brand of lump charcoal? Preferably one that doens't have a bunch of tiny pieces that clog the air vents. Some of the stuff in the bag looks like burned lumber. Makes me nervous.
Second question is in regard to wood for smoking. It seems that chips in this thing are fairly worthless unless you're doing some sort of quick, direct heat grilling. They seem to burn too quickly to be of much use whether soaked or not. Just bought some chunks of cherry wood that I hope will be better for the spatchcock chicken I've been making.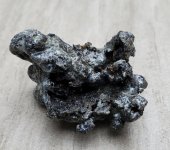 Last edited: