During EU teleconference of the European Union Foreign Affairs Council (FAC) on Friday, Greece and Germany disagreed on the content of the statement officials had planned to issue after the talks, according to diplomatic sources. The Greek side insisted on a harder line against Ankara that would have demanded an immediate end to Turkey's exploratory activities in the Eastern Mediterranean this week and that would have welcomed last week's deal between Greece and Egypt demarcating the two countries' exclusive economic zones. However German officials disagreed, particularly over a proposed reference to the Greek-Egyptian deal. Berlin was irked with the timing of the Greek-Egyptian maritime accord, a day before the scheduled announcement of exploratory talks between Athens and Ankara that had been mediated by Germany.
During EU teleconference, Greece and Germany disagree on Turkey stance | News | ekathimerini.com
It is regrettable that Germany is refusing to take on Turkey which is clearly in violation of international maritime law by exploring for energy in Greek waters. At least European Union foreign policy chief Josep Borrell, expressed on Twitter "full solidarity" with Greece and Cyprus and called on Turkey "for immediate de-escalation and reengaging in dialogue." One has to wonder what is behind Germany's reluctance to spar with Turkey given the incursion into Greek territorial waters. Has it to do with a fear that Turkey will release more Syrian refugees despite billions of euros negotiated principally by Angela Merkel to keep the asylum seekers away from Europe and on to their favored country of Germany. The Greek people must be fuming with the Germans who do not even have a Mediterranean border. What were they thinking?
For thousands of years, Greece has been a maritime civilization. Their hundreds of islands have been an integral part of Greece but the Turks, in their desperation to find gas or oil are claiming that small islands have no sovereignty over the surrounding sea as they are not attached to a continental shelf. It is an indefensible sea grab by Recep Erdoğan and his exploration ship was escorted into Greek waters by a convoy of battleships. Bullies have to be confronted whether or not they want to use refugees as bargaining pawns.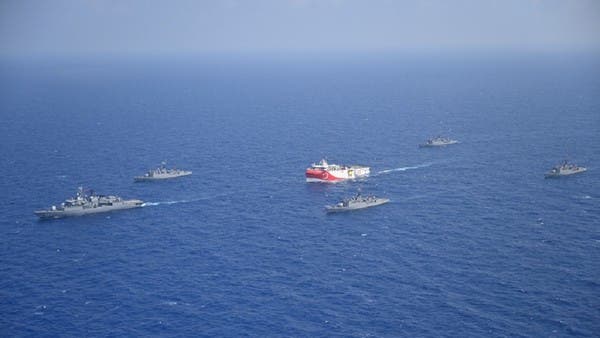 Turkish seismic research vessel Oruc Reis is escorted by Turkish Navy ships as it sets sail in the Mediterranean Sea, off Antalya, Turkey, on Monday, this week. (Reuters)
Last edited: