Governor Gavin Newson announced his latest "plan" to allow business opening in the state
It's bases on a color-coded C-19 standing: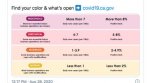 This is how the state looks today: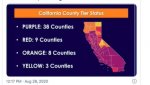 A county has to stay at least three weeks at a level before moving up.
I live in San Diego County - that little red box on the southwest corner surrounded by a sea of purple.
Sounds like we're going to have some inside dining and businesses like gyms, retail, salons and barbers with reduced capacities.
Last edited: