Joined

Apr 30, 2014
Messages

4,810
Reaction score

2,250
Location
Gender

Male
Political Leaning

Liberal
Average real GDP growth in the US has been relatively slow since the turn of the century, around two percent, interrupted as we all know by a terrible recession Dec 2007 — June 2009.
In the 1990s, we did better (around 3.5%), in part because there was just one brief and shallow downturn at the beginning of the decade. We also benefited from the Information Revolution during those years.
The 1980s were an unstable period, with the economy in recession for two of the first three years, then a big spike of 7.8% in 1983, followed by some more of those fairly good years at about 3.5%.
The 1970s were also unstable, in large part due to the oil shocks with average growth a little less than 3.5%. We did well in the 1960s at around 4.5%.
Americans would like to know what we can do to get incomes rising more rapidly. Of course, proposals are quite varied. Some observers, but very few if any economists, are calling for
a return to the gold standard
. Others support efforts to use deficit spending to leverage growth through investments in education, infrastructure, and R & D.
But there's a serious problem that many believe must be resolved — the widening income and wealth inequality that has only worsened over the past thirty-five years.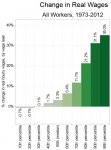 (
source
)
An expanding pace of GDP growth that benefits only those in upper-income households won't do us any good and could lead to a dangerous level of political instability.
It should be noted that we're already doing a lot to try to address this issue. In 2014, the various income support programs that provide government assistance to low-income households (the so-called "safety net") reduced the poverty rate in the US from 27% to 15%, nearly cutting it in half. But this is only a short-term solution, one that leads to a variety of social breakdowns if it continues for too many years. Income subsidies are, at some point, a poor substitute for increasing employment earnings.
I'm not much of an economic theorist, but my understanding is that the problem with returning to a system in which the value of the dollar is tied to a commodity such as gold is that it effectively ties the hands of the government when the need to adjust to destabilizing events arises. I figure we simply can't return to the boom and bust cycles we experienced before the Second World War.
Otoh, I find myself drawn to the monetarist argument that a so-called "managed currency" like the one we had 1948-70 had an important component that might be very useful today — it lowered the risk, or at least the perceived risk, associated with investment because it did more to control the cost of capital.
I've tried to gain some understanding of the federal budget and its impact on the economy over the years, but I''m pretty much ignorant of the factors involved in stuff like ways to properly incentivize and prudently direct investment in the private sector. I'm hoping for an informative discussion of how public policies can be shaped in the next few years to both spur more economic growth and draw a larger share of income to working- and middle-class households.
I've become more or less satisfied with my views about tax policy and efforts to further reduce poverty, but I'm thinking my vision may be more limited than I've realized. I'm hoping to move away from what I see as a narrow field of increasingly bitter political struggles to find more common ground with proponents of an approach to economic development that focuses more on the private sector.
How can we get a measure like the following back up closer to ten percent annual growth, and do so in a way that creates very positive social outcomes?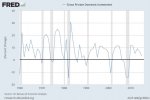 Or this my thinking simply off-base entirely?
"
The Economy Is ​Great; the​ Economy Is Terrible
,"
Atlantic
, May 3, 2016
Last edited: