Joined

Nov 7, 2020
Messages

3,295
Reaction score

1,566
Let me preface this by stating that I was a monster Houston Oiler fan in my youth. And Mike Renfro's non-catch in one of the playoff games against the Pittsburgh Steelers, I believe, lead to the eventual adoption of instant replay in the NFL. There was a six year difference between the two events (1980 was the non-catch and 1986 was when they adopted instant replay). So it's been around for 35 season or so in the NFL. Other leagues have adopted the practice as well.
I don't watch as much sports as I used to on the television but every time I do, I am always put off by these long reviews of judgment calls. Today, I was watching Arsenal v. Brighton in English premier action. An off-sides call cost Arsenal a point on the table. They're currently 3 points behind Tottenham for fourth place. As I understand it, the top four teams in each league make it into the UEFA so this call could end up costing Arsenal in that respect. This is the best view I can find of it. Martinelli scored seconds after this image was captured.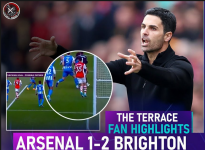 ​
Martinelli was judged to be off sides. For those who don't know, the ball cannot be struck by another player when he has a team mate "behind" the defense. Essentially, you can't have a guy hang out by the opponent's goal all game and just pass him the ball from midfield. The rule makes sense. Clearly this is a borderline call that could have gone either way. The game was stopped for a few minutes while someone pored over every frame of a review and they came up with their decision. Brighton was clearly the better team today. The two goals they scored were quality strikes that starched the goal tender. Arsenal's single goal was a deflection off a Brighton player that caused the ball to sail over the goalie's head. The game wasn't that close really. However, the best teams do not always win and the result of today's match should have been a 2-2 draw at full time.
This micro-detailed review seems to be becoming the norm rather than the exception. It leads to a lesser experience for those watching the game, it breaks the momentum of a team that has the goals/points/runs dis-allowed. I think they should just get rid of all video reviews and go back to letting the referees on the field decide the action.