Joined

Jun 3, 2009
Messages

30,870
Reaction score

4,246
Gender

Male
Political Leaning

Very Conservative
As you've probably read I've posted a lot of threads on housing lately, and I wanted to look at another example and compare with another country that has gone a different route. I want to look at Britain, which like the US deregulated its financial markets and saw rising homeownership. I want to look at the effects of that and compare it to another country which went in a very different direction.
https://evonomics.com/wealth-power-productivity-laurie-macfarlane/
Laurie Macfarlane said:

Over the past five decades ...

[t]axes on land and property have been removed, and subsidies for homeownership introduced. The deregulation of the mortgage credit market in the 1980s meant that banks quickly became hooked on mortgage lending ... Rent controls were abolished, and the private rental market was deregulated.


Sounds much like the US in the 1980s and 1990s before the housing bubble, right? So what happened there?


The result has been an unprecedented house price boom. Since 1995, skyrocketing house prices have increased value of Britain's housing stock by over £5 trillion – accounting for three quarters of all household wealth accumulated over the same period. While this has been great news for property owners, it has been disastrous for tenants...
The trillions of pounds of wealth amassed through the British housing market has mostly been gained at the expense of current and future generations who don't own property, who will see more of their incomes eaten up by higher rents and larger mortgage payments.


It looks like they've had mostly the same effects that we did. Home price appreciation was great for those who owned property, but for those who either did not buy or were too young to have done so, they now face higher rents that take up large chunks of income, 33% is the standard (which is the brink of unaffordable according to government agencies), while 50% has become common. So what would have happened had we gone in another direction? What if we didn't deregulate finance? What if we had strong rent control? Would it have been disastrous, as so many pundits have predicted?


Germany has among the strongest tenant protection laws in Europe, and many German cities also impose rent controls. This, along with a banking sector that favours

real economy lending

over property lending, means that Germany has not experienced the rampant house price inflation that the UK has. Remarkably, the

house price-to-income ratio is lower in Germany today than it was in 1995, while in the UK it has nearly tripled over the same time period. The fact that houses are not lucrative financial assets, and renting is more secure and affordable, means that the majority of people choose to rent rather than own a home in Germany – and therefore do not own any property wealth.

...


So while German property owners have not benefited from skyrocketing house prices in the way that they have in Britain, the flipside is that German renters only spend 25% of their incomes on

rent on average

, while British renters spend 40%


Hmm, it sure doesn't look like ruin and starvation to me. Germany actually looks like it's doing quite well. Germany also had among the best recovery from the financial crisis: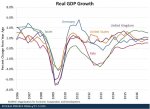 So why can't we have a system like this? It would benefit far more Americans than our current system while still allowing for a robust economy. Given the housing crisis that we have in the US, it's time for a change.