Joined

Jun 9, 2010
Messages

5,187
Reaction score

4,255
Location
Gender

Male
Political Leaning

Moderate
The German Green Party (officially B'90/Greens since 1993) came into existence in 1979 and first won seats in the federal parliament in 1983.
The progressive-environmentalist party has since become the 3rd strongest party in Germany, as junior partner in the center-left federal government 1998-2005, leading Germany into its first military engagement after WW2 in the Kosovo war and Afghanistan. It also supported the greatest reforms of the unemployment and welfare system in German history, which once again made Germany fit for the 21st century economically. Their greatest achievement is probably the push for alternative energies (which have increased from 4% to ca. 20% in the past 12 years) and the decision in favor of a nuclear power phase-out (which center-right Merkel confirmed).
In one German state, they're running the government as strongest party and they are junior partners to the center-left Social Democrats (SPD) in many others. Current polls see the Greens at 13% to 14% of the votes nationally. Their state results in elections range up to ca. 25% of the votes.
Their most famous figurehead was probably Joschka Fischer, German Foreign Minister and Vice Chancellor 1998-2005: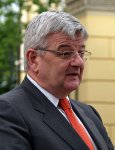 But the Greens were not always as established and successful. In the 80s, they were considered a chaotic catchment basin of various social groups in tradition of the (sometimes violent and radical) student protests of 1968, including radical ideologues. There were radical pacifists, environmentalists, Maoists, and civil right advocates of all kind.
One major group forming the Greens were the heirs of the sexual revolution: Free love, love before marriage, family planning and contraception, pro-choice, alternative models of life (such as free-love communes), feminism and legalization of homosexuality. Breaking up traditional sexual taboos.
Including pedophilia, or so it seems.
Pedophiles used the general atmosphere of the sexual revolution to advance their agenda, and many Greens and alternatives in general seemed to uncritically join them, throwing out the baby with the bathwater (no pun intended).
Left-alternative publications of that time provided a platform for pedophiles, such as the major alternative daily "die tageszeitung (taz)" or "zitty". Pedophiles, in that social atmosphere, called "consensual sexual relations" between children and adults "a crime without a victim", and mused about how actively teaching kids "good sexuality" is allegedly good for their development.
The Green Party had a "work group" called "Homosexuals, pederasts and cross-genders" until 1987, when it was dissolved because of a growing suspicion towards pedophilia.
One of the most famous Greens, the French-German EU parliament MP Daniel Cohn-Bendit, was confronted with an article he wrote in 1975 for such a paper, in which he describes his "erotic" encounters with toddlers, when he worked in a "Kinderladen" (an alternative, "anti-authoritarian" form of daycare that became popular among alternatives in the 1970s).
Now, of course, all older Greens involved with these activities, claim that it was a bad mistake and they way overshot the mark when questioning conservative, "square" sexual morals. They now understand how damaging pedophilia is, say their previous writings in these regards were "immature sins of youth", and the Green Party officially administered an independent commission to examine potential cases of abuse, headed by a renommeed German crimial psychologist, who already investigated on abuse scandals in the Catholic Church.
For some reason, this commission won't be finished until well after the upcoming election.
source (Zeit Online German)
I can only imagine what kind of ****storm this scandal would cause in America. But it doesn't really take place in Germany. Maybe that's because Germans feel the Greens have long abandoned their radical, "anti-square" past and have become a very established, serious and rather square party?
At any rate, I hope the Greens will do everything they can to shed light on this problem. They should develop a sense of self-criticism, after decades of (rightfully) condemning others, such as the old Nazi parents or newer authoritarians. For a change, they could blame themselves for their past mistakes.
It would also help to make their criticism of the Catholic Church in the recent scandals sound more convincing. IMO.
Oh, and this mindset is apparently not limited to the Greens: A candidate for MP of the Free Democrats (Merkel's junior partners) has now resigned too, because of a pro-pedophilia article she wrote in her youth. That party, the FDP, can best be described as "moderately libertarian" by American standards (as it is socially progressive but economically pro-market and anti-government).
http://www.zeit.de/politik/deutschland/2013-08/fdp-paedophilie-dagmar-doering
Last edited: