Judge strikes down Obama health law insurance subsidy in victory for House GOP
Excerpt:
A federal judge struck down a portion of President Obama's signature Affordable Care Act health law Thursday, ruling that Obama exceeded his authority in unilaterally funding a provision that sent billions of dollars in subsidies to health insurers.

In a 38-page decision, U.S. District Judge Rosemary Collyer of the District put her ruling on hold pending the administration's certain appeal. Her decision sided with the U.S. House of Representatives, which brought the lawsuit challenging more than $175 billion of spending after a party-line vote by House Republicans in July 2014.

The House GOP argued that the administration's decision to subsidize deductibles, co-pays and other "cost-sharing" measures was unconstitutional because Congress rejected an administration request for funding in 2014. Obama officials said they withdrew the request and spent the money, arguing that the subsidies were covered by an earlier, permanent appropriation.

House Republicans have tried repeatedly, without much success, to repeal parts or all of the health-care law, holding dozens of votes on the matter over the past five years. Thursday's ruling may represent their most significant victory in trying to dismantle the ACA. The ruling, if upheld, could undermine the stability of the program because of the added financial burden it would place on insurers, health policy experts said.

Under the ruling, in order for the subsidy payments to be constitutional, Congress would be required to pass annual appropriations to cover the subsidies' cost.

At stake is whether the subsidy "can nonetheless be funded through the same, permanent appropriation. It cannot," Collyer wrote, referring to the provision in question.

"None of [the administration's] extra-textual arguments — whether based on economics, 'unintended' results, or legislative history — is persuasive," added Collyer, who was appointed to the bench in 2003 by President George W. Bush.

The judge's logic drew a quick rebuke from White House press secretary Josh Earnest, who called the lawsuit a new low in the battle over the controversial health-care law and predicted that the ruling would be overturned by the courts because it charted new ground in the separation of powers between presidents and Congress.
Evidently, the Replicants have nothing better to do than keep sniping at ObamaCare, one of the more fundamental necessities of a developed nation. Every Social Democracy (meaning all of the EU, with almost twice the population of the US) on earth has a National HealthCare System. The purpose of which is to keeps costs affordable by
mandating practitioner/pharmaceutical prices and avoiding privatized insurance
. Even our neighbor Canada!
Except the US, and the rude consequence is real and tangible in terms of life-span.
As described here: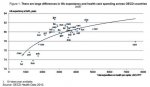 Note from the above that Americans have a
life-span that is about 3-years less
than that of the EU countries!
_________________________________
Last edited: