News Corp's number-two shareholder funded 'terror mosque' planner
News Corp's number-two shareholder funded 'terror mosque' planner - Yahoo! News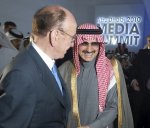 The opponents of the proposed Cordoba Initiative Islamic center planned for Lower Manhattan are fond of suggesting, by way of lengthy and often confusing chains of causation and association, that its principal planner, Imam Feisal

Abdul

Rauf

, is connected to terrorism. "The imam has been tied to some shady characters,"

Fox Business Channel's Eric Bolling recently said

, "so should we worry that terror dollars could be funding the project?" Blogger Pamela Geller, who has become a regular talking head on cable-news channels to denounce the mosque, has noted Rauf's involvement with a Malaysian peace group that funded the group that organized the Gaza flotilla under the headline, "

Ground Zero Imam Rauf's 'Charity' Funded Genocide Mission

."

...
H/T:
MMfA