Joined

Mar 17, 2016
Messages

14,235
Reaction score

1,453
Gender

Male
Political Leaning

Undisclosed
The purpose of Vice magazine, like most Main Stream Media outlets, is to hunt down dissenters from the existing System and then whine and caterwaul about them until their subjects' lives are ruined. So they sent in some guys to "infiltrate" the Soldiers of Odin in Canada.

Oh oh, who some people would call heros invade Canada.
The international group has been described as everything from a far-right vigilante group and neo-Nazis—two descriptions they actively dispute—to heroes keeping the streets clean. Despite its historic name, the club has a very short history, forming in October of 2015 in the small northern Finnish town of Kemi as a response to an influx of migrants. It's since expanded to many more towns and countries across Europe.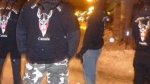 Finland's Soldiers Of Odin Spread To Canada | VDARE - premier news outlet for patriotic immigration reform