OMG teh WOKE WOKE WOKE!!!!
Supporting Member
DP Veteran
Joined

Aug 8, 2005
Messages

64,142
Reaction score

46,658
Location
Gender

Male
Political Leaning

Undisclosed
FCC Chair Newton Minow - 1961 speech
delivered 9 May 1961, National Association of Broadcasters, Washington, DC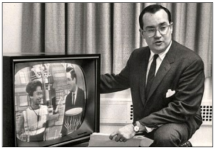 EXCERPT
"It may also come as a surprise to some of you, but I want you to know that you have my admiration and my respect. Yours is a most honorable profession. Anyone who is in the broadcasting business has a tough row to hoe. You earn your bread by using public property. When you work in broadcasting you volunteer for public service, public pressure, and public regulation. You must compete with other attractions and other investments, and the only way you can do it is to prove to us every three years that you should have been in business in the first place.
I can think of easier ways to make a living.
But I cannot think of more satisfying ways.

I admire your courage -- but that doesn't mean that I would make life any easier for you. Your license lets you use the public's airwaves as trustees for 180 million Americans. The public is your beneficiary. If you want to stay on as trustees, you must deliver a decent return to the public -- not only to your stockholders. So, as a representative of the public, your health and your product are among my chief concerns."​
Read the entire speech, or listen to the audio.
This is what was meant by "service in the public interest" back when I was growing up.
It is largely lost to us today, particularly when boneheads bark about how this or that news channel has the best ratings.
Ratings as regards news channels are utterly MEANINGLESS and here's why:
"I do not accept the idea that the present over-all programming is aimed accurately at the public taste. The ratings tell us only that some people have their television sets turned on and of that number, so many are tuned to one channel and so many to another. They don't tell us what the public might watch if they were offered half-a-dozen additional choices. A rating, at best, is an indication of how many people saw what you gave them. Unfortunately, it does not reveal the depth of the penetration, or the intensity of reaction, and it never reveals what the acceptance would have been if what you gave them had been better -- if all the forces of art and creativity and daring and imagination had been unleashed. I believe in the people's good sense and good taste, and I am not convinced that the people's taste is as low as some of you assume.
My concern with the rating services is not with their accuracy. Perhaps they are accurate. I really don't know. What, then, is wrong with the ratings? It's not been their accuracy -- it's been their use.

Certainly, I hope you will agree that ratings should have little influence where children are concerned. The best estimates indicate that during the hours of 5 to 6 P.M. sixty per cent of your audience is composed of children under twelve. And most young children today, believe it or not, spend as much time watching television as they do in the schoolroom. I repeat -- let that sink in, ladies and gentlemen -- most young children today spend as much time watching television as they do in the schoolroom. It used to be said that there were three great influences on a child: home, school, and church. Today, there is a fourth great influence, and you ladies and gentlemen in this room control it."
If parents, teachers, and ministers conducted their responsibilities by following the ratings, children would have a steady diet of ice cream, school holidays, and no Sunday school. What about your responsibilities?​
The same is true of today's adults who have proven time and time again that they PREFER a steady diet of ice cream and red meat with an outrage chaser.
News channels today consist of giving the viewing public what they WANT to hear instead of what they NEED to LEARN.
And that fact is now lost to two generations and going on a third.
Forty years of news being a consumer product instead of a public service have sealed us to this glass tit of sewage and its vacuous raison d'etre.