long standing member
DP Veteran
Joined

Dec 22, 2005
Messages

59,742
Reaction score

40,559
Gender

Male
Political Leaning

Independent
no ****. eric actually went there with this tweet:
Of all the ugliness in politics, the utter disrespect George Conway shows toward his wife, her career, place of work, and everything she has fought SO hard to achieve, might top them all.

@KellyannePolls

is great person and frankly his actions are horrible.
predictably (to everyone but eric, it seems) the public chimed in:
This is just "alternative respect"
Wait. Did I miss something? Did George Conway pay money to have sex with a porn star right after his wife gave birth?
Your father was banging a porn star while his wife was home caring for their baby.
Utter disrespect is paying off porn stars while whichever one of your step moms just gave birth to yet another one of your siblings with yet another trophy wife. But that's just my humble opinion...
Marriage advice from a Trump
On a positive note he's never had multiple affairs with porn stars after his wife gave birth or leave his wife and mother of his children for some bimbo from Fox News...champ. You're not the guy to lecture anyone on how a marriage should be respected.
Your father was sleeping with a porn star (who he later paid) while his wife was home caring for your new-born baby brother.
This from a guy whose father cheated on all three of his wives, who has a brother who cheated on HIS wife and whose great-grandfather was a pimp.


What the **** are the Trump males putting on their Frosted Flakes?
Your lack of self awareness is stupefying. You are obviously a chip off the old block.
Eric might do well to remember 2 old sayings. "Let he who is without sin, cast the first stone" and "people who live in glass houses shouldn't throw stones." After all the revelations about "***** grabbing," porn star payoffs, playmate pay offs and the unbelievable cruelty of the warring press agents in your parent's divorce- I don't think you are in any position to give marital advice to anyone. It isn't gay marriage that threatens the institution of marriage but the utter disregard of marital vows displayed by President Feckless.
Eric, your Dad married his mistress and cheated on your Mom multiple times - it was his "personal Vietnam".. and Eric, mind your own marriage
The Trumps' are totally famous for their amazing self-awareness.
obligatory photo of eric with fidget spinner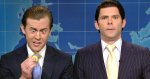 View attachment 67245384
View attachment 67245384