Joined

Jan 25, 2013
Messages

34,516
Reaction score

17,039
Gender

Male
Political Leaning

Undisclosed
"Donald Trump was drooling over the idea of a housing meltdown — because it meant he could buy up a bunch more property on the cheap," the Massachusetts senator said in a speech Tuesday night, according to the Washington Post.
"What kind of a man does that?"
Or woman, as it turns out.
Elizabeth Warren says Trump was 'drooling' over housing crash | Sanders aims to maximize platform impact | Republican chief optimistic on Senate - MarketWatch
Elizabeth Warren Bought Foreclosed Homes to Make a Quick Profit
Five months after purchasing Veo Vessels' old home, Warren flipped the property, selling it for $115,000 more than she'd paid, according to Oklahoma County Property Assessor records.
... Records show Warren bought the house Hickman inherited from her mother, located at 200 N.W. 16th Street, in August 1993 and quickly obtained permits to do plumbing and electrical work, selling it five months later for a 383 percent gain.
... Warren held onto at least four other properties for longer periods, sometimes waiting a year before relinquishing ownership and, at other times, as long as seven years. Warren bought two homes after they'd fallen into foreclosure. And though she spent money fixing up the Hickman home before selling it, records suggest she sold others at a significant profit without making any meaningful upgrades.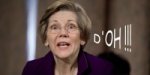 | National Review