Joined

Feb 26, 2012
Messages

56,981
Reaction score

27,029
Location
Gender

Male
Political Leaning

Private
After torching a Franciscan school,
Islamists paraded three nuns on the streets like "prisoners of war" before a Muslim woman offered them refuge. Two other women working at the school were sexually harassed and abused as they fought their way through a mob
.
In the four days since security forces cleared two sit-in camps by supporters of Egypt's ousted president,
Islamists have attacked dozens of Coptic churches along with homes and businesses owned by the Christian minority. The campaign of intimidation appears to be a warning to Christians outside Cairo to stand down from political activism
.
Christians have long suffered from discrimination and violence in Muslim majority Egypt, where they make up 10 percent of the population of 90 million.
Attacks increased after the Islamists rose to power in the wake of the 2011 Arab Spring uprising that drove Hosni Mubarak from power, emboldening extremists. But Christians have come further under fire since President Mohammed Morsi was ousted on July 3, sparking a wave of Islamist anger led by Morsi's Muslim Brotherhood
.
Nearly 40 churches have been looted and torched, while 23 others have been attacked and heavily damaged since Wednesday
, when chaos erupted after Egypt's military-backed interim administration moved in to clear two camps packed with protesters calling for Morsi's reinstatement, killing scores of protesters and sparking deadly clashes nationwide.
The attacks served as a reminder that Islamists, while on the defensive in Cairo, maintain influence and the ability to stage violence in provincial strongholds with a large minority of Christians
.....snip~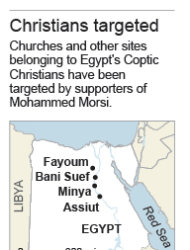 Egypt: Islamists hit Christian churches
Associated Press – 4 hrs ago
<<<<<
More here.
Like how the media states Islamists
? It's the MB. What is everybody afraid to call them out for what they are.
Now who was sticking up for the MB in the US that are politicians? After reading this article, you may be able to discern that this so-called Democratic Election that took place and put the MB in power. Was rigged.....and by guess who. Thas Right.....the Muslim Brotherhood.
Note that part on how the attacks all increased under Morsi. Anyone else think Egypt is ready for a Democracy?
Do you think Obama will say anything with his stuttering ass, about anything the MB is doing? If not Obama.....then who? Who should be out there telling it like it is.....not like we want it to be.