Joined

Jun 9, 2018
Messages

20,454
Reaction score

13,808
Gender

Female
Political Leaning

Independent
I never heard of this before, but two miles from Stonehenge is a much older and larger henge, called Durrington Walls, and several smaller sites around it.
It seems Stonehenge was just one part of a large complex built over many hundreds of years.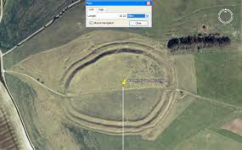 Durrington Walls was built over the site of a short lived neolithic village that they think may have housed the builders of Stonehenge. The village was quickly abandoned and later the the area was made into the henge, consisting of a circular enclosure with earthen and chalk walls surrounded by a ditch. However, in 2015, they discovered that beneath the henge and the prior village is buried a C-shaped super henge which was made of massive timbers, discovered by ground-penetrating radar. That henge was aligned with a local hill of some significance, not the solstices, as is Stonehenge. They believe the C-shaped super henge is older, and then their theology shifted to the sun, hence the new site at Stonehenge.
In 2015, another discovery was made at Durrington Walls: a ring of 20 giant pits, each over 60 ft wide and fifteen feet deep, all the same dimensions, evenly spaced in a circle over a mile wide around Durrington Walls. (Some is missing due to modern development, but the formation is clear.) When a couple of these pits were excavated they found some animal bones but nothing enlightening. It looks like the pits gradually filled with silt over time and became overgrown.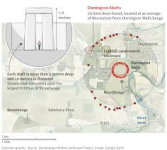 Those interest me. It seems a strange barrier to keep people out--why not just dig a ditch? People could just walk in between them if they wanted. The pits are too big to be post holes. There must have been some significance or purpose to them. They don't seem to know.