American companies have NO IDEA how easy they have it.
The French know how to strike
!
Dramatic Photos Capture The Chaos In France As Strikes Escalate
French protesters accuse the government of undemocratically passing controversial labor reforms

The protests began earlier this month, when France's Socialist government forced through a labor reform bill that makes it easier for companies to hire and fire employees and relaxes regulations protecting workers' pay and working hours.

Opponents of the reforms accused the government of using anti-democratic meansto push them through without a parliamentary vote. Activists held demonstrations and one of France's largest labor unions, the CGT, called for nationwide strikes.

Meanwhile, unions voted Wednesday to start strikes at French nuclear power stations, and public transport workers have joined the strikes, causing travel chaos. Unions have also called for country-wide walk-outs and protests to take place on Thursday.
The French never forget their revolution like we do.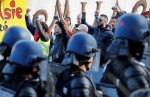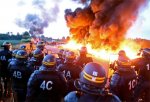 The conservatives are going to keep pushing American labor around, and THIS is what they're going to get as a result The hand writing is on the wall right now. The French have always conducted their strikes on a nationwide level. American compaines are gonna be dreaming about
"the good old days"
when they were kings.