Ruscism = Russian fascism
DP Veteran
Joined

Apr 18, 2013
Messages

85,467
Reaction score

70,758
Location
Gender

Male
Political Leaning

Independent
Donald and Melania Trump requested mail-in ballots for elections in Florida, despite Trump's insistence the system is rigged
Yesterday Trump said he was intentionally blocking extra funding which would help the postal service cope with election volume.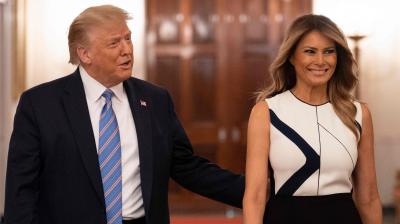 8/14/20

President Donald Trump and First Lady Melania Trump requested mail-in ballots for Florida's primary election, according to multiple news reports. The request is despite the president's frequent comments that mail-in votes are plagued with problems, and his attempts to disrupt its use int he November presidential election.

Trump and Melania requested the ballots ahead of Tuesday's election. According to USA Today, they applied so close to the vote that the ballot will have to be picked up, rather than mailed to the Florida address.

Trump has recently railed against in-mail voting, claiming that is widespread use will open the electoral process to fraud. However, he has made a different argument for Florida's voting system, which he claims is not vulnerable to those problems. Experts say that mail-in voting in general is safe, and that cases of fraud are extremely rare. There is no evidence that expanding voting by mail will hurt or benefit either the Democratic or Republican party.

On Thursday, he said that he would block funding to the already cast-strapped US Postal Service in order to further disrupt the practice.
Do as I say, not as I do. Only Republicans can be trusted with mail-in ballots! /s
Related:
Pennsylvania — an important swing state — is pleading with the state's Supreme Court after the USPS said it couldn't guarantee on-time delivery of mail-in-ballots