Joined

Apr 18, 2016
Messages

4
Reaction score

0
Gender

Male
Political Leaning

Independent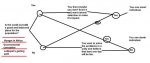 Run yourself through my little paint art here and place yourself.
Ask yourself, is all the starving children in Africa a ok opposite to us next world humans living the good life?
Is it ok that Justin Bieber and Hannah Montana can pay lobbyist's millions to persuade them in their favor of the ruling.
Is it ok that medicinal companies make trillions off of the hard working and dedicated community that is the whole foundation for making medicine or any other service and product that is needed and created by the population, what gives them the right to decide how much i pay?
IF you do think that all the above mentioned is alright, just go ahead with your everyday rutines as you have done so far, cause you are never anyway (in this above mentioned) gonna have any influence on how the world and human race is gonna end out.
IF you do think that some of the points made are correct, grow yourself some curiousness around theese subjects and you will quickly find that there no logical answers "Compared to what the government and so called experts tell you" But you will find that some logical answers are found in the subjects that no answers are created to. etc could this be: "Why does the government make money off of medicine?" The simple and known answer is "Medicine cost money to produce" Now the logical answer would be that medicine cost money, but then why can individuals create patent on medicinal formulars. There is no logical answer to that. Its simply not known, i can't find anyone answering to that question and it leaves me with two opportunities.
1: I believe they got it all figured out.
2: There is more to it than what i know.
Go ahead and pick again, i will guess that 99% of you dont know the answer so if you put yourself in question 2, then you should start thinking about some of theese things.
And for the closing argument. Money is in this world the most influental single thing, and why does the most influental thing stand to ground for some of our most important values such as healthcare and hunger?
eace
eace
eace
eace
eace