Joined

Dec 5, 2015
Messages

25,206
Reaction score

5,090
Location
Gender

Male
Political Leaning

Independent
For the third time in the past few weeks, Senate Democrats failed to reach the necessary 60 votes on Monday evening to end debate on Republican-introduced legislation that, if enacted, would impose fresh sanctions on Syria, boost security cooperation with Israel and Jordan amid the beginning of the planned gradual withdrawal of U.S. troops from Syria. It is also aimed at tackling the anti-Israel BDS movement.

Additionally, it would enable state and local governments in the United States to fight the anti-Israel BDS movement.

Democrats have objected to moving with the bill due to the partial government shutdown that has lasted a record 24 days due to U.S. President Donald Trump refusing to sign funding legislation that includes at least $5.6 billion for a border wall with Mexico.

"It's absurd that the first bill during the shutdown is legislation which punishes Americans who exercise their constitutional right to engage in political activity," tweeted Sen. Bernie Sanders, an independent from Vermont who caucuses with the Democrats, last week.
https://www.clevelandjewishnews.com...cle_5c7df803-73bc-55e1-b9a4-70e6e5424fed.html
This brazen type of language is deeply disturbing.
Rashida Tlaib is being exposed: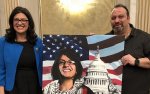 An anti-Israel extremist who heads a "right of return" advocacy group — and has equated Zionism to Nazism and called Israel a "terrorist entity" — attended a Detroit swearing-in reception and dinner party for freshman Rep. Rashida Tlaib, where he posed with her for a photograph that he tweeted on Saturday.

Tlaib, for her part, is one of the first members of Congress to support the Boycott, Divestment, and Sanctions (BDS) campaign against Israel. She has also backed a one-state solution to the Israeli-Palestinian conflict and has called for cutting US aid to the country.
https://www.timesofisrael.com/rashida-tlaib-poses-with-hezbollah-backing-anti-israel-activist/
Not only is Tlaib supporting BDS, but she is also surrounding herself with radical anti-Isreal groups. Her agenda is clear: Marginalize Jews further. This is absolutley appauling. She is using anti-semetic tactics. The people she is surrounding herself are dangerous people - people that do not think the Holocaust actually happened and want to wipe Isreal off the face of this earth.