I continue to see OP after OP and post after post mentioning Socialism as a huge negative we need to avoid. The reason why the Democrats should be shunned and not voted for. How Socialism is going to lead us down an abyss of no return.
Let me clarify something for you. There is the kind of Socialism that is bad, such as is found in China, Russia, Cuba, Venezuela, North Korea, etc. There is also Democratic Socialism like what is found in Norway, Finland, and Denmark
Democratic Socialism vs. Socialism

Both democratic socialism and socialism advocate for a redistribution of wealth and power to meet public needs, not make profits for a few. Both aim to weaken the power of corporations and increase the power of the working people.

Democratic socialists, however, do not think the government should immediately take control of all aspects of the economy.

Democratic socialism focuses more on providing basic needs to all people, such as health care and education. Democratic socialism, unlike socialism, would achieve this through democratic means and not

an authoritarian rule

.
The Communistic Socialist countries like the ones mentioned above with authoritarian leaders such as Xi, Putin, Castro, Maduro and Kim have authoritarian leaders. They are the ones that decide everything. Those are the ones to be shunned. BTW, it is funny that Trump is trying to be an authoritarian leader, much like those mentioned above. Could that mean he actually is more dangerous to us becoming Socialist than through Sanders or Warren?
Democratic Socialism, as some of the Democrat leaders want to have (Sanders and Warren) are not looking to be authoritarian. They are looking for the change through Democracy. Through voting, which means that only the good things of Socialism would be adopted. It would be a rule by the majority and not by an authoritarian leader.
Big difference.
Here is a meme that shows exactly what the difference is between a Democratic Socialist country such as Norway and where we are now with our unfettered Capitalistic country.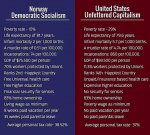 By the way, notice that the tax rate is not all that different.
Last edited: