Joined

May 6, 2016
Messages

1,906
Reaction score

489
Location
Gender

Male
Political Leaning

Independent
Africa is a continent of potential. It contains many resources such as oil, minerals, and even uranium! However, rapid decolonization has left many africans unprepared to govern themselves. In short, africa is very poor and partly unstable. The democratic republic of the congo is the epitomy of africa. It has many minerals including gold, silver, and diamonds in the kivu provinces and cobalt in the katanga province. Cobalt is a key component in iphones and batteries and congo contains 80% of the world's cobalt reserves. Most of the congo's cobalt goes to china. With all of these minerals, it would seem that congo would be a regional power of africa right? Hahahahaha no, a few years after congo became independent from belguim, it became a dictatorship and the country was renamed zaire. In the early 90s, the rwandan genocide occurred and some of the people fleeing the genocide fled to the kivu province in eastern congo. The rwandan government got angry that zaire wasn't going after the refugees and so led an offensive which saw the overthrowal of the zaire regime. The country was renamed the Democratic Republic of the Congo. A second congo war happened in the late 90s for complex reasons and didn't end until 2004 but the rebels were backed by rwanda, uganda, and burundi while this time, angola, nambia, and zimbabwe came to its rescue along with some support from others
Map of 2nd congo war: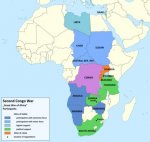 In the aftermath of the 2nd congo war a man named Joseph Kabila became the president of the war torn country. He promised to rebuild the country though he largely abused his power. In the north and south kivu provinces, a conflict developed as a result of misrepresentation of ethnic groups there. In 2011, it escalated to an outright rebellion known as the March 23 movement which was to overthrow the government which would cause a 3rd congo war. This movement was accused of numerous atrocities such as drafting children, raping women, and killing men. Fortunately with collaboration with the UN, the M23 movement surrendered in 2013 but tensions in the kivu provinces continued. There are elections in 2016 scheduled to take place in congo. Joseph kabila decided to conduct a national survey which would take years allowing him to stay in power for awhile after the scheduled 2016 elections. This resulted in major protests in kinshasa demanding that joseph kabila resign. These protests are no joke as at least 27 died (nobody died in the ferguson riots or the london anarchist riots) and that's from the government. This country has such great potential yet it is one of the poorest countries and most unstable in the world.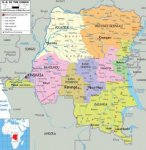 There is hope yet for the congo. China has been investing in africa in the last decade helping countries develop and buying resources. China may not solve the instability issue but it may help develop the country making the situation a little better.
Last edited: