Joined

May 28, 2013
Messages

1,379
Reaction score

212
Gender

Male
Political Leaning

Progressive
I'm wondering why none of the people on DP talked about this, especially in this section since many here think African-Americans who have erratic behavior are somehow "up to something." Now in North Carolina a student athlete named Jonathan A. Ferrell was shot after police responded to a burglary call. Apparently, Mr. Ferrell crash his car, walked some one and half to two mile hike to the nearest house where around 2 a.m knocked on the door I assume seeking assistance. Apparently the woman in the house called police and stated that someone was trying to break in her house. Yes all burglaries happen when the perpetrator is knocking on your front door....Right!
Here is what got me, but I'll let the article narrate this part:
"Officers responding to the woman's breaking-and-entering call discovered Ferrell, who matched the woman's description of the possible robbery suspect, near the home, police said. As they approached him, Ferrell allegedly charged at the officers, one of whom stunned him with a taser. Ferrell allegedly continued to run toward the officers — and that's when Kerrick fired his gun, striking Ferrell multiple times, according to police. He was pronounced dead at the scene.
A preliminary police investigation showed that Ferrell was unarmed his encounter with officers.
Police said the investigation also found that the shooting was excessive and "Kerrick did not have a lawful right to discharge his weapon during this encounter."
"According to CNN, Police used both 'charge' and 'run' in their description of what Ferrell did." See:
The DC Post » Police Kill Unarmed Car Wreck Survivor Running to Them for Help
Race may not have played a part in the murder of this young man, but I think it played a part when the woman called the cops. For one, it is stated that she opened and slammed the door on the person then proceeded to call the cops stating he was trying to break in her home. Now, she may have truly been startled especially at that time of night (or morning) but I cannot help but think if it was a white guy banging on the door he would've more likely received immediate help and would have survived. Now before people start speculating on whether Ferrell was intoxicated let us consider some possibilities:
1) In a car crash a person can suffer some brain trauma (hemorrhage) which depending on how severe the trauma is an individual can act in a disorient state where behavior can be erratic.
2) Suppose he was intoxicated if the person was severely intoxicated there would be no way he or she could walk almost two miles in seeking help and not pass out mid way to their destination.
3) Why did the police report use both charge and run? As the former seems to present an aggressive behavior as opposed to the latter.
4) There were several officers at the scene yet one shoots him excessively.
5) I still cannot help but think if it had been a white guy or white female or someone of fair complexion asking for help or knocking on the door the outcome would've been different.
See Article:
N.C. police officer charged with fatal shooting of unarmed man due in court - U.S. News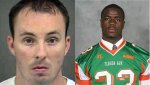 Last edited: