I don't know if there has been a scientific study done on corrupted governments or not. I know there are 3 individual researchers who came up with 10-14 commonalities amongst several famous dictatorships of the past. I have done my own novice 'investigation' into several myself.
I do know this from a life-time of observation of facts, laws, proven hypotheses, and/or through an organized system of accepted knowledge that applies in a variety of circumstances, explaining this exact set of phenomena:
Governments take a mile if you give them an inch
They are not answerable to the same laws as us
They have proven themselves repeatedly corrupt on just about every level before
They are more concerned with image than truth
Despotism is an inevitability when populations become complacent
War and/or controlling public opinion is 90% information, 10% might
The Government has a lot of information we're not allowed to see
The Government has become less and less transparent with information
I could go on and on
I'm reticent to suggest the mainstream information we have so obviously available to us without any digging, could constitute a proper and proven scientific theory that anything out of the government's mouth should be taken for less than immediately honest (not necessarily with aggressive suspicion, just our jobs, nature of the beast), or that they have the tendency to 'conspire' – I'm not a scientist. Let's say it's not.
Let's say we only have a reasonable working hypothesis on this matter. Pick your favorite 'how do they get away with that ****' pet peeve. Go investigate it. I know, I'm sorry it takes work on your part, but that's the real world. Detox, munchkin, detox. If you weren't so scared to talk to your friends about it, you could get this done so much faster too.
Problem for you is, it takes more than one subject, more than a couple hours. It takes roadblock after roadblock, sub-plot after sub-plot, picking off the bull****, watching the pieces get put together in whatever way it comes through to you. Maybe you see it entirely opposite, think I'm full of ****, whatever, you're allowed.
I take a very sturdy 'hypothesis' on a notoriously 'conspiratorial' organization, I apply it to an 'investigation' on another apparent 'conspiracy'. I follow all leads until they're extinguished, going back to take the off-shoot subjects, follow all those leads until extinguished. I'm left with distasteful, aggressively suspicious information that points directly at a wall I can't get past, and it's the same notoriously conspiratorial munchkins guarding the wall… Naturally, I'm growing less inclined to believe the notoriously conspiratorial…
After enough pressure, maybe we'll find an investigation gets launched, not to point fingers at anyone, but to get to the bottom of something the government was responsible for. If 'investigating' the 'investigation', I'll likely get peppered with red flags in my investigation. I mean it's ridiculous how badly proper procedure is ignored in the official one. I'd be completely neglectful, and rightfully written off as incompetent and untrustworthy in your eyes…
And none of the important people testify under oath, or in public, or have transcripts of private unbound testimony, and they screen the final report before release, and many of the facts and logical avenues of my investigation are still unanswered for, or still behind that wall.
Now, given my sturdy hypothesis, the several information chains that dead-ended at the same roadblock of the notoriously conspiratorial organization, my own red-flag-filled investigation of the official investigation, and my previous investigations still cold at the same dead-ends afterward, nothing trustworthy in the report anyway because the notoriously conspiratorial screened it, or conducted and wrote it themselves…? Do you see why I think you are insane yet?
Furthermore, confrontation on these subjects are rarely met with any meaningful factual information, just more notorious 'politician answers', some of them incredibly disingenuous according to my investigation, tugging on the heartstrings of patriotic citizens, condemning outside investigation as malicious, extreme, paranoid, a disgrace to the honor of fallen citizens, etc. This compares very adequately with the sturdy working hypothesis of societies led into despotism before...
Further even more, the media is not responding like they should in a free country. This is a ****ing nightmare, can't be happening, but I remember 5 corporations own the media, saw all kinds of cronyism and shenanigans there before, saw how the notoriously corrupt organizations took down all the protections in that industry like they did almost everywhere else, wouldn't mind having those investigations answered either, good luck with that… This too, fits very nicely with the sturdy working hypothesis of societies led into despotism before… Not to mention the piles of information that would take volumes and volumes to display here…
The cherry is, the masses are so complacent and conditioned that they call it 'conspiracy theory', writing it off like a nice-sounding but meaningless name, like 'Meryl Streep'. You don't even know when you're using your own words against yourself, applying the reverse meaning to an abused word to prevent you from creeping where you need to. You think 'joke' when it translates better as 'x marks the spot'…
You bet your ass there is another investigative theory on the notoriously conspiratorial, researched up to the walls with the life-time of observation of facts, laws, proven hypotheses, through an organized system of accepted knowledge that applies in a variety of circumstances, explaining this exact set of phenomena… The notoriously conspiratorial organization has had a continual and organized agreement to conspire harmfully and unlawfully for a long time, many credible people pointing it out the whole way, HELLO?
There is definitely some extrapolating, filling in the blanks, etc… It is not a stretch, it is not long division. It is 2+2=4. It is basic investigative practice. If you walk into the kitchen and your kid has his hand in the cookie jar, like he's notorious for, is chewing something… He tells you he isn't eating cookies – and you never saw him actually put a cookie in his mouth. You tell him to open his mouth. He says 'no', runs away, brushes his teeth…
Nobody cares if you don't want to believe it, make all the excuses in the world to suck on that crack pipe. What can't you believe? The magnitude or scope? The depth of depravity? The inconvenience? Nothing seeming what it was? What is it that you're stuck on, no matter how much evidence is thrown at you – even the intangibles I can't quite explain or prove but you know as well as I do, are sitting right behind that wall? What exactly are you scared of in the truth of it? You don't have to tell anyone…
I'm not saying there are no such things as wild 'conspiracy theories' worthy of a titter. They merely distract from the legitimate facts, observations and questions that need attention in strong and legitimate 'conspiracy theories' that have nothing to do with fantasy. You should be so incredibly aggressively suspicious right now, open to even the craziest government conspiracy theories until they're disproved. The Head Munchkins are running brazenly amuck, in case you hadn't noticed…
Wild theories serve as a bin of incredulity for the masses to toss the legitimate facts, observations and questions into for their own convenience, encouraged by the Head Munchkins. You know when you throw a can in the garbage because it's just easier than the whole recycling thing right then? Not everything that gets a little weird is a merit-less 'conspiracy theory'…
If you know the facts and sturdy theories, they speak for themselves. What comes out of them are logical avenues for investigation, not wild fantasies to be shrugged off, or solved by the messenger before you'll take notice. I try to remember it took me two prior times to be bumped with information like this before I acted on the third time some 4 years or so ago. Maybe this is your 3rd bump...
All credible investigations, if you do one with normal rules, point to a very logical hypothesis/theory that requires immediate attention for verification and disproving. It requires further investigation without that wall in the way, no matter who or what their excuse for secrecy. It doesn't get any more obvious than this before there's nothing left to do. It's at the point now where it's more obvious that we're just the next inactive population in a long line of other's that didn't learn a thing…
Peace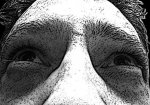 ​