Joined

Jun 21, 2013
Messages

17,688
Reaction score

8,046
Gender

Male
Political Leaning

Progressive
Forget 'Republican'. Forget 'Democrat'. Forget 'Libertarian' and 'Progressive' and all the other political labels, for their meanings change over time. At one time Republicans were the liberals and the Democrats were the conservatives, and the Progressives were the ones who under Teddy Roosevelt believed in empire-building.
What is more accurate are the mindsets of 'conservative' and 'liberal'. In American history, Conservatives have historically opposed societal change, and fought for a return to what they feel were the 'good old days'. Liberals, on the other hand, have been eager to embrace societal change, that the good old days weren't so good. Of course there are many nuances, but above any such nuances are the conservative opposition to change, and the eager liberal embracing of change.
While not all societal change is for the good, and not all resistance to societal change is bad, conservatives have more often than not stood on the wrong side of history, as Pulitzer Prize-winning political cartoonist
David Horsey makes clear
: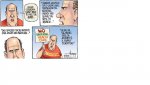 The 'good old days' weren't so good...and "that's the way it's always been" is never an acceptable excuse to resist the changes that can make it better. This is why I reject American conservatism and look forward to the better days ahead for everyone, whether rich or poor, regardless of race, gender, ethnicity, religion, or sexual preference.