Joined

Aug 21, 2013
Messages

330
Reaction score

128
Location
Gender

Male
Political Leaning

Progressive
Research into the human genome has shown repeatedly that many genes in the homosapien sp are also found in many other sp, ranging from dogs,cats,mice,chimps and dolphins. One of the most intriguing aspects discovered were the duplicated copies of various genes which have been considered junk or back-up DNA for many years.
Recent studies have shown though the human brain contains upwards of 100 billion neurons, 40% more than our closest cousins in Bonobo's and Chimpanzee's it is not necessarily the number of neurons that gives us the conscious condition. Many have said alternatively it is the connectivity of the neurons that is the difference between our sp. Until recently this couldn't be tested but with the discovery of the gene regulating the connectivity of neurons, +SRGAP2C, we can now examine this in more detail.
+SRGAP2C is replicated 4 times in the human genome on chromosome 1. In most other animals it only appears once such as chimps, mice, dogs and cats. Strangely in Dolphins it appears twice but the 2nd replication is incomplete and higher up the 1st chromosome.
The gene once isolated was spliced into mouse Dna and showed that with the enhanced copies of the gene, the mice neurons increased their connectivity and spinal protrusions by 42%. Currently tests are beginning to grow mice with the increased neural connectivity to adulthood to observe behaviour for changes.
With the amount gleamed from the studies like that of the Planck Institute of chimp/human behavior and testing in recent years it has become ever more obvious that we are more a result of human culture than biology, though the discovery of this gene may help us to understand how we are able to have that culture in the first place....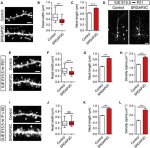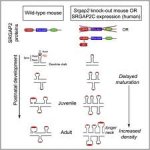 Below are the papers citing these breakthroughs.
Evolution of Human-Specific Neural SRGAP2 Genes by Incomplete Segmental Duplication.
http://www.umich.edu/~zhanglab/clubPaper/08_10_2012.pdf
Inhibition of SRGAP2 Function by Its Human-Specific Paralogs Induces Neoteny during Spine Maturation
http://www.scripps.edu/polleux/Polle..._withsuppl.pdf