Joined

Nov 16, 2017
Messages

4,141
Reaction score

1,243
Gender

Undisclosed
Political Leaning

Undisclosed
Story
.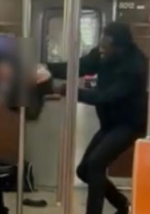 I'm not posting this to say "Look how much crime Blacks commit" - I'm already authorized by white leftists to self-segregate to a suburb and therefore have no need of a "subway" or it's violent denizens.
The only point of the post is to demonstrate the MSM's treatment of Black suspects:
an incident in which an unidentified individual was captured on video
when an individual approached and began threatening
asking the public to help identify the whereabouts of the unidentified individual
The unidentified individual allegedly sat across from the victim and stated, "I wish I had my pepper spray,"
The individual then spit at the victim
police say the assailant stated, "I'm sick of all you f*gs"
In asking for the public's help, CNN has been kind enough to suggest, via a photograph, that the "unidentified individual" likely isn't wearing a MAGA hat.
For this one, we can "probably" rule out a pickup-driving, confederate flag waving country music fan.