So, I'm bummed by this 'conspiracy' sometimes. Depressed even, sure. I used to feel stupid for developing actual feelings about it. Like it shouldn't hurt you to learn it. To hurt for it was the silliest part. Even if only 20% of what I accuse Head Munchkins of is anywhere near the ballpark, we're still in as much trouble, even if it takes a little longer to see the full consequences. How did it all come to have such a desperately preachy ring to it?
It's crazy to think the conspiracy has become this deeply embedded, right down to the last firing cell in the cerebral cortex's of our brains, but even you can see it, can't you? Just look at our daily decisions and justifications. It's horrifyingly plain to see we behave like a fortune-cookie fortune I got once, and just as easy to see how Head Munchkins would take advantage of that, encourage it, even guide it - today, with Star Trek precision. If we found out, we'd be ticked enough to hunt down every last one of them. Ticked enough to destroy their dynasties, they're castles, maybe any symbol of monetary wealth and division in existence… It'd be hairy, anyway - enough that they'd want to hide it well, vastly outnumbered as they are…
Then I realize my 'idea's' aren't so original at all. You know exactly what I'm talking about on the level where even 'enemies' can mostly agree. You want out of this shell as much as I do – whether you're sitting in a Manhattan penthouse with a road of good intentions behind you, or on a milk crate in a run-down housing project, wishing you could trade hell's, dig? So then we're just sitting here, sometimes with lumps in our throats, knowing there's something better, waxing hollow rhapsodic, afraid to even admit a 'conspiracy' exists, let alone its depths... The first time you scream in trembling rage at it, is when it becomes real…
I see a level of fear, mistrust, and inability for people to connect or be vulnerable… It's just staggering how afraid of each other we are, even the ones we love the most, let in the closest. We get so jaded, don't feel understood, trying to express ourselves how Head Munchkins tricked us to. We're so incredibly divided, seeing all the differences, on first whim, without thought anymore. We're all just desperate to find the similarities, the common ground, to connect - but terrified of it, too stoned to figure out the conundrum… I feel it in myself, I see it reflected in you, I know I am not alone. You need to face those Universal truths. You need to face those demons. You need to face Head Munchkins.
Human beings may be able to build skyscraper's and bridges, but that's all we have over the other animals. We took the gift Mother Nature gave us, and don't even know how much we handed over to a bunch of silver-tongued devils, grateful for our biscuit crumbs, no better than cattle. To call us stupid isn't really an insult as much as it is a fact. It's only an insult if you haven't figured it out yet, see? We are capable of so much more, it defies description, even my imagination… How does that not destroy you sometimes, munchkin…?
We're going to let the best thing that ever happened to us, about being us, go down the tubes because we looked away, so incredibly terrified, that we actually hoped pulling the sheets up would protect us from the monster in the closet… I just can't get my teeth through the flesh of what I want to say about it, I'm never satisfied that I've been adequately venomous or contemptuous enough to paralyze you with the astonishment I feel about it, really. A la caf**kin' dabra, munchkins…
Peace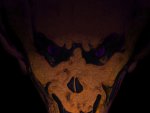 ​