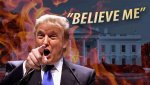 Believe me! Neither I nor any of my close associates have had any contacts with Russia. None!
Trump, aides had more than 100 contacts with Russians, WikiLeaks
. January 26th 2019
Timeline: Trump and associates denied Russia involvement at least 20 times
TRUMP'S RUSSIA COVER-UP BY THE NUMBERS – 101 CONTACTS WITH RUSSIA-LINKED OPERATIVES
How long are Trump supporters going to continue to allow a man who is a pathological liar to lie to them?
Last edited: